Web Conferencing App Development
Custom software solutions for web conferencing or virtual meeting that help you provide secure, reliable and high-definition meetings
Our Conferencing Software Development Services Include:
Custom WebRTC Applications
Develops custom Real Time Communication (RTC) applications such as web conferencing and online meeting software, screen and application sharing solutions, video and audio streaming, instant messaging, webinar management, and more.
Conference Telephony Architecture
Orchestration of custom architectures for PBX, WebRTC, and VoIP gateways, and integrate video streaming and recording functionality via API from Skype, Facebook Messenger, Google Meet etc.
Learning Management Systems
Development of custom virtual classroom applications featuring live streaming of classes, two-way communication, course management system, attendance management, live chat, etc.
Gain a competitive edge for your business through: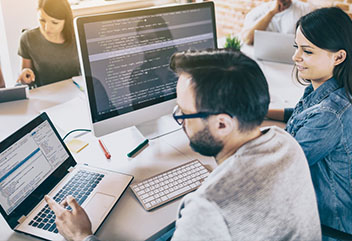 Product Engineering
Realize your vision with a tailored software, delivered on-time and within your budget
Build my product