Tele-medicine
Software
Provide technology-assisted ancillary services through easy-to-use patient engagement system, and on-demand virtual doctor apps
Enable convenient, secure and collaborative remote care for patients with tailor-made tele-medicine solution
Enhance Collaboration
Enables patients to share videos and first-hand tips, discuss different treatments, refer wellness experts and much more.
Leverage Seamless Integrations
Integration with popular EMR solutions and PMS such as Quickbooks, ADP, Kronos, and many others.
Store & Forward Telemedicine Services
Allow secure and encrypted medical data sharing with other professionals to eliminate waiting hours, travelling cost and to achieve quick diagnosis.
Live Video Conferencing
Video-conferencing telehealth services to assist virtual appointments and consultations with Interactive Voice Response (IVR), Multipoint Control Units (MCU) and recording functions.
Tele-medicine Solution Modules
Book Online/Offline appointments and consultations
Book appointments by categories
Online/offline chats with practicing doctors/clinicians
User ratings and Feedbacks
Top rated Doctors/Clinicians
Doctor/clinician profiles
Offers, Discounts, promotional and marketing content
Medical Articles and blogs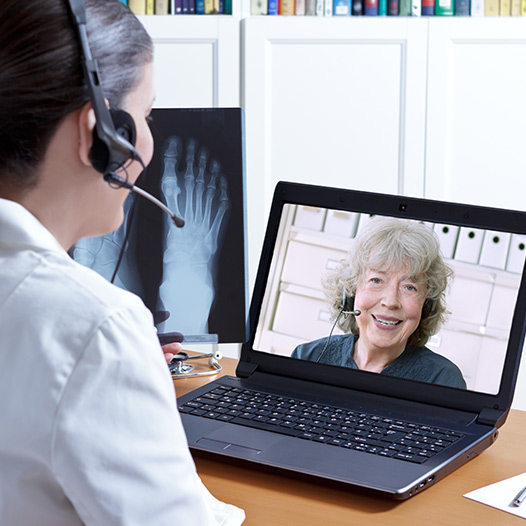 GDPR
Adherence to policies for collecting, processing, and securing personal data.

FHIR
Fast Healthcare Interoperability Resources is a standard describing data formats and elements and an application programming interface for exchanging EHR

HIPAA
Implement secure electronic access to health data & remain in compliance with the privacy regulations set by HHS

FHIR
Compliance to standards for the exchange, integration, sharing, and retrieval of electronic health information

DICOM
International standard to transmit, store, retrieve, print, process, and display medical imaging information

SNOMED
Expertise in medical terms providing codes, terms, synonyms and definitions used in clinical documentation and reporting

CCDA
Consolidated Clinical Document Architecture.to create documents and template methodologies for medical documents

ISO 9001:2015
Multiple ISO certifications such as ISO 9001:2015, ISO 27001:2013 and ISO 20000:2018 for strict data security protocols
Setup a personalized demo to know how a personalized patient engagement software can boost your patient outcomes
At the end of this demo, walk away with:
Scope of customization required
Insights on how each module can boost patient engagement
Cost and time estimates of implementation
Implementation and engagement plan of action