Building feature-rich Android applications for your business
Whether you are looking to create a simple mobile app, revamp the existing app, or even build a complicated one requiring custom functionality, we can work with you to bring your ideas to fruition. Having skills, experience, and subject-matter knowledge, we aim to deliver intuitive, fast, responsive, and highly-reliable Android applications for your business.
Using ML algorithms, AI, augmented reality, and other technology-driven approaches, Daffodil Software not only limit its services to smartphones but also extend its hand to Android wearables, tablets, and TV. Our team of dedicated Android developers, UI/UX designers, project managers, QA testers, databases, and architects, avail a broad understanding of programming languages such as Kotlin & Java. We serve across 12+ business domains such as e-commerce, healthcare, fashion, education, gaming, travel, social networking, etc.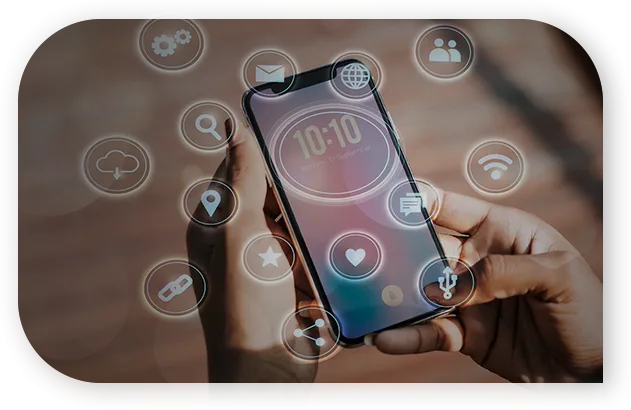 Our Android app development services help you to:
Our Android app development services include:
Product planning & strategy
Assessment of your overall business concept, creation of your product blueprint, development of comprehensive & detailed strategy, and analyzation of the required tools are some of the important approaches our experts take to flourish your mobile applications on the Android platform.
UI/UX design & prototyping
Create engaging user experience with intuitive UI/UX that is aesthetically appealing, flawless to use, and drives the user to take the desired action. Working together with innovative technologies & significant trends, our team ideates on the processes of the development of your applications. We help you to build long-term relations with your users by offering them a user-friendly app.
Native android apps
Build and maintain performance-critical and quality-driven native android apps with experienced app developers and creative designers. Catering to all types of industry verticals, comprising e-commerce, business workflow apps, and more, we tailor custom mobile applications for you.
Enterprise-grade Android apps
Develop robust and feature-rich enterprise-level applications with expertise in features such as high-level security, payment gateway integrations, systems integration with ERP (enterprise resource planning) and CRM (customer relationship management), Android device management, etc.
App development & programming
Defining the technical architecture of your app & development milestones, our front-end and back-end developers help build final version of your mobile applications, as per the product's blueprint which was developed at the initial stage.
App quality assurance testing
QA testers of our team use every measure to test your final version of mobile applications, considering their functionality, performance, responsiveness, platform testing, and security for a stable, user-friendly, secure, and bug-free mobile application. These tests are based on various metrics such as screen rendering, API latency, app crash analytics, and more.
Google Play Store deployment & launch
After the testing processes of your customized mobile applications, we make sure that your applications meet all Google Play Store UI/UX guidelines and other compliances before their final launching.
Maintenance & support
After launching the product, we provide necessary maintenance and support to your mobile applications in order to keep an eye on its functioning, working conditions, possible bugs, automatic system updates, and monitoring your app's performance.
Our android app development services success stories
Why Daffodil Software?
Meaningful Difference, Real Value
Recognized by Leading Analysts:





Global Team and Mature Processes:
Diverse workforce located throughout the world with world-class and integrated processes
1200+ people
20 years of software engineering excellence
Offices in US, UK, UAE, and India




Dedicated Practices & Consulting Approach:
Uncover the right tech for your toughest business problems through our team of seasoned subject matter experts and technologists. Dedicated practice heads for:
AI Solutions
QA & Testing Automation
Mobility
DevOps
Robotic Process Automation
Microsoft Technologies
Open Source Technologies
Salesforce
---
Strong Associations and Partnerships:






Customized Android app development services for all device types
Developing custom tablet applications for the native android platform that results in a sleek, user-friendly designed app, smooth business workflows, high-definition entertainment services, and quality customer experience.
Building innovative applications for foldable devices such as Motorola Razr 5G, Samsung Galaxy Fold, Microsoft Surface Duo 2, and much more. Conveniently allowing the multitaskers to view the opened tabs while simultaneously using the custom application.
Android TV app development
Offering rich cinematic experiences on all TV screen sizes with our customized Android TV apps. We build these responsive apps with the same architectures that are used in the applications of mobile phones or tablets.
Android wear OS app development
Implementing new methodologies and approaches for creating a brand new app or revamping the existing apps using specific Android tools such as Android JetPack APIs (application programming interfaces), Android wear emulator, Google Play Console, and more.
Future-ready Android app development expertise
We create agile and adaptable Android app development services to help you get a more enhanced personalized user experience.
Watch our brand video.
Get your first free consultation session with us!
Sign up for a 30 min no-obligation
strategic session with us
Validation of your project idea/ scope of your project
Actionable insights on which technology would suit your requirements
Industry specific best practices that can be applied to your project
Implementation and engagement plan of action
Ballpark estimate and time-frame for development
Frequently answered questions (FAQs)
Android is a Linux-based operating system for mobile devices such as smart phones, smart tablets, smart TV, and more. This open-source operating system is known for versatility and scalability.
Java is our most widely used programming language for Android projects. However, we also use Kotlin programming language with other Android tools such as Eclipse, Android Studio, SQLite, and IntelliJ IDEA.
For developing apps for the Android platform, you need to know Kotlin or Java, preferably both. Daffodil has a team of experienced Android app developers who has a basic understanding and subject knowledge of these languages.
• When choosing the finest Android app developers, take into account both your needs and the services the company offers.
• Explain your needs in detail at the initial consultation session, and then question the service providers about their app development process, clientele, and past experience working on projects similar to yours.
•Verify the compatibility of your objective and the provided software in addition, and take into consideration any unique characteristics your device requires.
•Establish a strong channel of contact with the designated project manager to ensure that your vision is being carried out as you had intended.
The cost-estimating method used by Daffodil Software is adaptable and changeable depending on the project's requirements and how the resources are used. To estimate how long each stage of the development process would take and how many developers would be required to complete the project on schedule, we first sketch the project scope and its stages. A quote is also advised due to the complexity of the deliverables.
Definitely! We guarantee complete transparency throughout the whole project and collaborate closely with our clients to ensure a seamless process flow.