ECM Solutions
Streamline, analyze & manage your unstructured content with our custom ECM solutions
Our Enterprise Content Management Solutions
ECM Implementation
ECM implementation services based on established software development methodologies and EMC recommended best practices by qualified and trained professionals.
Enterprise Content Migration
Seamless migration of high volumes of data, documents, web content and other legacy digital assets to ECM system, while considering all the compatibility requirements.
ECM Consultation
Consultation with our team of experts who bring in clarity and create a roadmap for implementation of your content management strategy specific to business objectives.
Document & Records Management
Customized and scalable records management system that helps your employees to classify, categorize and manage unstructured data effectively.
Physical Records Digitization
Reduction in paper dependency and file storage costs by converting physical records into electronic data through digital scanning, e-signature etc.
Maintenance & Support
Preventive and pro-active support and maintenance services, and onsite resources to facilitate smooth project management and implementation.
Gain a competitive edge for your business through: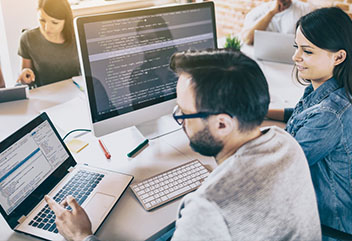 Product Engineering
Realize your vision with a tailored software, delivered on-time and within your budget
Build my product