Robotic Process
Automation
Automate repetitive business processes to boost efficiency and ROI
Our Robotic Process Automation Services
IT Process Automation
Reduce downtime and improve incident management process by automating repetitive and routine IT tasks that involve manual intervention.
Finance and Accounting Automation
Enable greater productivity and better detection of accounting errors through end to end automation of key accounts processes.
Customer Engagement Automation
Enhance quality of communication and reduce time-to-contact by automating customer touch points that require manual intervention.
HR Process Automation
Enhance the efficiency of HR department by freeing employees from tedious manual tasks, and allowing them to focus on complex tasks such as decision making and strategizing.
Document Automation
Free your workforce from documentation-intensive processes by automating the process with help of technologies such as OCR, AI, and image recognization, etc. automation with 99% accuracy.
Claim Processing Automation
Automate all layers of administrative, managerial, and customer service functions for fast and error-free claim processing.
Gain a competitive edge for your business through: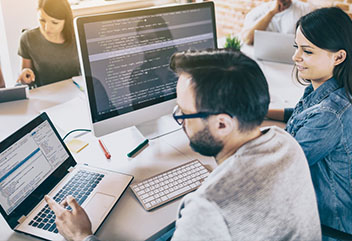 Product Engineering
Realize your vision with a tailored software, delivered on-time and within your budget
Build my product