eCommerce Development
Services
Disruptive ecommerce solutions to simplify customers' journey and engage shoppers in new ways
Helping disruptors to
Boost Customer Engagement
Develop innovative solutions to break through the noise and deliver immersive customer experiences by leveraging technologies such as Artificial Intelligence, Chatbots, Voice Interfaces etc.
Bring Innovative Ideas to Life
Bring your most complex eCommerce solutions to life with our full-cycle eCommerce development services. Having built more than 1000 eCommerce solutions for a varied set of industries, Daffodil is in a unique position to bring ideas from the whiteboard into the market.
Provide Stellar Online Experience
Provide your customers with world-class shopping experiences they crave. From intuitive e-store navigation to AI-driven personalized recommendations to smooth one-step checkout — take your users on a meticulously crafted customer journey to win their loyalty and support your brand image.
Digitize Brick & Mortar Stores
Augment your in-stores services with custom retail software solutions that include mobile applications, VR/AR applications, self-service solutions etc.
Modernize Legacy eCommerce Systems
Whether your eCommerce is lacking versatility due to old application infrastructure, hosted on inefficient servers, or suffer from outdated interface designs, we help you re-engineer and modernize your legacy eCommerce system, while maintaining data integrity and security with minimal downtime.
Automate Supply Chain
Automate manual processes in your supply chain ranging from repetitive manual work to complex decision making through new-age technologies such as RPA, AI, and machine learning.
Disruptive tech solutions to simplify customers' journey and engage shoppers in new ways
Voice Commerce Solutions

Shoppable Videos

Real-time Multilingual Chat

Robotic Process Automation

Asset Tracking Solutions

Live Video Streaming Solutions

Custom Retail Solutions
Voice Commerce Solutions

Redefine shopping experience with voice-enabled interactions

Daffodil's voice commerce solutions enable e-retailers to integrate their eCommerce stores with popular voice assistants platforms such as Amazon Alexa, Google Assistant, Microsoft Cortana, and Google's Smart Displays.

Open up a new touch point for your eCommerce store
Engage your users before selling
Deliver an experience that's visible, personal and delightful

Shoppable Videos

Turn your video content into point-of-sale

Driven by AI, shoppable videos automatically recognize the products showcased in a video and provides direct-from-video purchase opportunity to your viewers, eliminating the various stages of the buying process.

Accelerate buying decision of visitors
Turn passive viewers into active consumers
Deliver interactive customer experience

Real-time Multilingual Chat

Unshackle language barriers and transform your customer support

Daffodil Software has developed a real time multilingual chat application which is powered by Amazon ML and PubNub and can be seamlessly integrated with any eCommerce technology ecosystem.

Enhance CSAT by communicating better and resolving customer queries faster
Curb operational cost incurred by hiring native agents
Boost first-response rate by up to 75%

Robotic Process Automation

Create efficiencies at large scale through digital workforce

Daffodil's RPA services offers retailers an effective way to automate processes such as vendor on-boarding, refund management, return processing, reconciliation, customer support, etc, as well as business-specific processes such as HR, supply chain, finance and accounting, etc.

30-70% reduction in operational costs by automating repetitive manual tasks
Get more done in less time. Clone rapidly and scale within a matter of hours
Increase compliance, auditability & consistency with standardized processes

Asset Tracking Solutions

Maintain 100% visibility of your inventory and assets

Daffodil software has developed an Automatic Identification and Data Capture (AIDC) solution that leverages RFID & Beacon technology to quickly scan and catalog all the products in an inventory. Tagged items can communicate with warehouse software and automatically document their own arrival and exit from the warehouse.

Increase inventory accuracy by upto 95% with item level tagging
Save hours of manual effort of carrying out physical stock checks
Reduction in order entry errors (less manual intervention) & improved employee productivity

Live Video Streaming Solutions

Engage your audience with immersive live interactions

Daffodil's live video streaming solutions enable eCommerce businesses to elevate their customer engagement strategy by seamlessly streaming events in real time with unmatched quality and scalability.

Live videos can be streamed on the web or mobile to select audience
Using live chat within the video, users can interact with product experts
Run promotions in real-time

Custom Retail Solutions

Elevate your brick and mortar store

Augment your in-store services with custom retail software solutions that include mobile applications, VR/AR applications, self-service solutions, front and back office automation, ecommerce store migration, legacy system modernization etc.

Build custom solutions on Magento, Drupal or Shopify platforms
Automate your supply chain with a customized ERP solutions
Custom software engineering to transform your vision into a market ready product
Gain a competitive edge for your business through: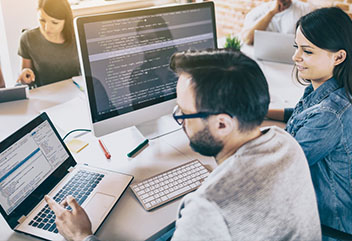 Product Engineering
Realize your vision with a tailored software, delivered on-time and within your budget
Build my product