DevOps Services
Cutting edge DevOps services to optimize the cost, agility, and scalability of your IT ecosystem
Enabling CTOs to:
Optimize TCO of IT systems
Automate and monitor your IT ecosystems with our cutting edge zero-touch infrastructure automation, continuous integration, and delivery model. This results in a shortening of your product or service's Time to Value with reduced TCO.
Accelerate time to market
Leveraging our mature DevOps practices, we ensure rapid delivery of applications by automating end-to-end delivery pipeline and facilitate continuous integration and development.
Reduce risk
Daffodil has embraced a proven agile development methodology to reduce risk and deliver robust applications for our clients. Our DevOps process advocate thinking of the infrastructure as part of the application and allows for a more rapid and reliable software release cycle.
Keep IT systems secure & stable
Enable centralized monitoring, logging, proactive alerting and critical information dashboards so that you are continuously able to monitor your processes and keep your infrastructure environment secure and robust.
Boost DevOps capabilities
Discover redundant tasks, find new touchpoints for automation and identify the right set of tools through our DevOps consulting services. Our DevOps experts assess your existing DevOps practices, perform audit your existing infrastructure, and deliver an assessment report outlining action points for automation and process optimization.
Benefits of DevOps
Improved Software Delivery
We offer DevOps consulting and management services that help in delivering better and faster software solutions with DevOps methodologies. Make a transition to DevOps approach and transform the way your team works by bridging the gap and enhancing the collaboration between development and operational teams.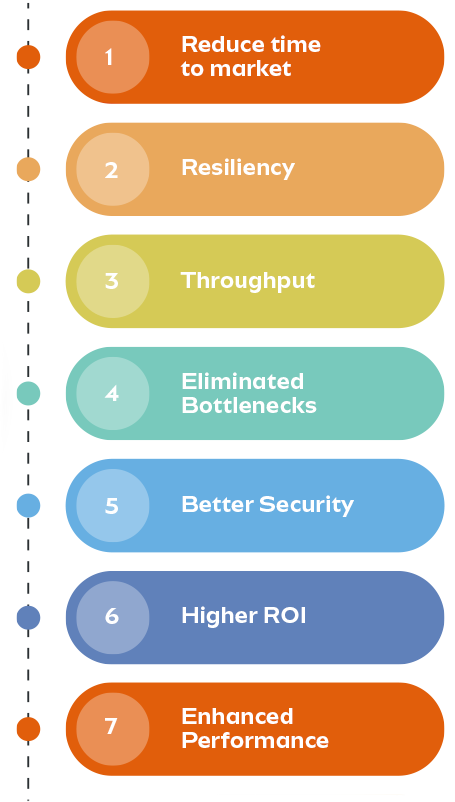 Covering the entire gamut of DevOps Services

Process
Best Industry Practices in terms of processes and methodologies
Procession workflows and automations

People
End-to-end implementation
Strategy and roadmap workshops

Technology
Tools deployment
3rd party integrations
Why Daffodil Software?
Meaningful Difference, Real Value
Recognized by Leading Analysts:
Daffodil's software development capabilities are recognized in reports of leading research analysts
Featured as Aspirants in Software Product Engineering Services PEAK Matrix® Assessment 2021 by Everest Group
Emerging Niche Player under ER&D services, S&M service providers, Artificial Intelligence, digital engineering services, consumer software by Zinnov Zones in 2020
Emerging Niche Player under the 'Overall ER&D Zones.' by Zinnov in 2019
Dedicated Practices & Consulting Approach:
Uncover the right tech for your toughest business problems through our team of seasoned subject matter experts and technologists. Dedicated practice heads for
AI Solutions
Mobility
Robotic Process Automation
Open Source Technologies
QA & Testing Automation
DevOps
Microsoft Technologies
Strong Associations and Partnerships:
Partnerships with leading technology providers to provide our clients with latest technology updates at a faster pace and optimized costs
Amazon Partner Network
Google Cloud Partner
Microsoft Silver- Application Development Partner
PubNub Partner
UIPath Partner
Global Team and Mature Processes:
Diverse workforce located throughout the world with world-class and integrated processes
1000+ technologists
20 years of organizational experience
CMMI Level 3 accredited
ISO 27001:2013, ISO 9001:2015, and ISO 20000 Certified
Offices in USA, India and UAE
Get in Touch
Sign up for a 30 min no-obligation strategic session with us
Let us understand your business objectives, set up initial milestones, and plan your software project.
At the end of this 30 min session, walk out with:
Validation of your project idea/ scope of your project
Actionable insights on which technology would suit your requirements
Industry specific best practices that can be applied to your project
Implementation and engagement plan of action
Ballpark estimate and time-frame for development