DevOps Services
Optimize the cost, agility, scalability of your IT ecosystem and increase operational efficiency with end-to-end automation through our DevOps services
Enabling CTOs to
Reduce time to market
Ensure rapid delivery of your applications by automating end-to-end delivery pipeline and facilitating continuous integration and development.
Integrate security from the beginning
Eliminate risks by integrating end-to-end security using DecSecOps and deliver robust applications with our agile development methodology.
Optimize DevOps spend
Design optimal resource orchestration patterns and get the best suited cloud services for your application to optimize cloud spends without impacting the agility and scalability.
Quickly respond to market changes
Quickly respond to the changing market needs with quick assessment, audits of the existing infrastructure and new action points for automation and process optimization.
Lower operational costs
Automated and planned operations that help your organizations to reduce your overall operational costs. Leverage timely system integrations and automated testing to reduce the delays and overall maintenance costs.
Benefits of our DevOps Services
Accelerated Software Delivery at Optimized Costs
We have a team of certified DevOps specialists with an unparalleled expertise in developing SaaS products, mobile applications, cloud computing, artificial intelligence, database management systems and more, who can help you with your DevOps challenges.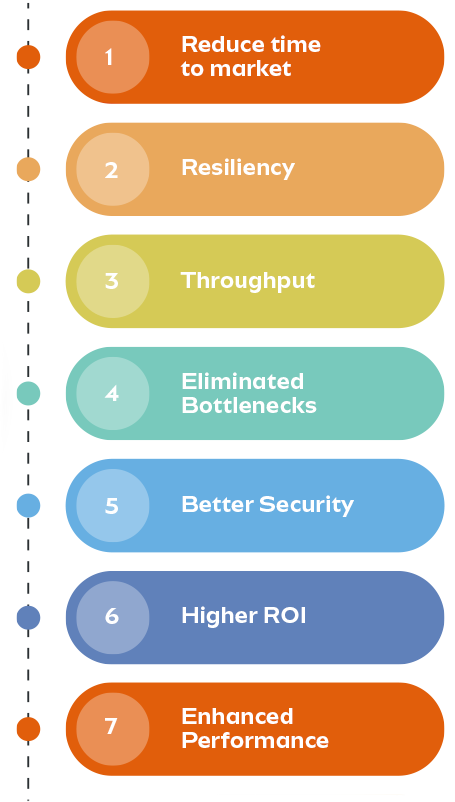 Covering the entire gamut of DevOps Services

Process
Best Industry Practices in terms of processes and methodologies
Procession workflows and automations
Scalable with highest uptime

People
End-to-end implementation
Strategy and roadmap workshops
Industry experts

Partnerships
AWS Certified Partner
GCP Partner
Microsoft Azure Partner
Why Daffodil Software?
Meaningful Difference, Real Value
Recognized by Leading Analysts:
Featured as Aspirants in Software Product Engineering Services PEAK Matrix® Assessment 2021 by Everest Group
Mentioned by Frost & Sullivan research as a company to watch out for in 'AI for Public Sector category
Emerging Niche Player under ER&D services, S&M service providers, Artificial Intelligence, digital engineering services, and consumer software by Zinnov Zones in 2020
Emerging Niche Player under the 'Overall ER&D Zones.' by Zinnov in 2019
Featured as one of the 50 fastest-growing tech companies in India by Deloitte
Featured as one of the 500 fastest-growing tech companies in APAC region by Deloitte





Dedicated Practices & Consulting Approach:
Uncover the right tech for your toughest business problems through our team of seasoned subject matter experts and technologists. Dedicated practice heads for:
AI Solutions
QA & Testing Automation
Mobility
DevOps
Robotic Process Automation
Microsoft Technologies
Open Source Technologies
---
Strong Associations and Partnerships:






---
Global Team and Mature Processes:
Diverse workforce located throughout the world with world-class and integrated processes
1000+ People
20 years of organizational experience
Offices in US, India and UAE



Get in Touch
Sign up for a 30 min no-obligation strategic session with us
Let us understand your business objectives, set up initial milestones, and plan your software project.
At the end of this 30 min session, walk out with:
Validation of your project idea/ scope of your project
Actionable insights on which technology would suit your requirements
Industry specific best practices that can be applied to your project
Implementation and engagement plan of action
Ballpark estimate and time-frame for development