Revolutionize IT operations with our expert DevOps consulting service
Whether you want to optimize your existing DevOps processes, introduce a new strategy, or upskill your staff, our DevOps consultants can deliver tailored solutions to help you visualize the outcomes and fit your business's particular demands.
Our skilled DevOps consultants assist enterprises in improving their IT processes and fast software delivery. Besides, helping our clients to constantly enhance their software delivery pipeline, we also make sure that the businesses achieve quantifiable outcomes by utilizing the best practices and cutting-edge technology. We help you leverage your DevOps through easy code management & review, continuous integration, automated security alerts, single-click deployment, and public, on-premise, or hybrid cloud deployment.
Let us transform your IT operations and take your business's software delivery to the next level.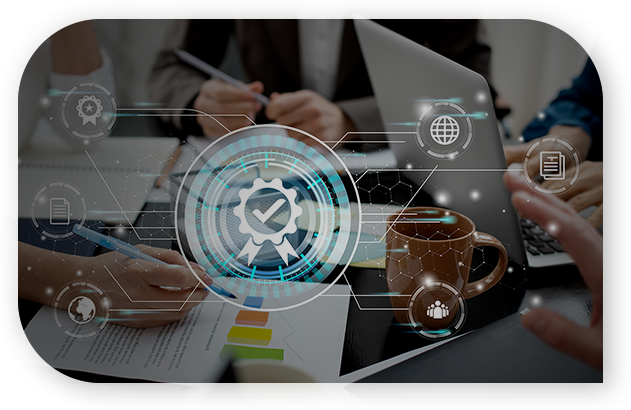 Delivering the best DevOps consulting services that can help you to: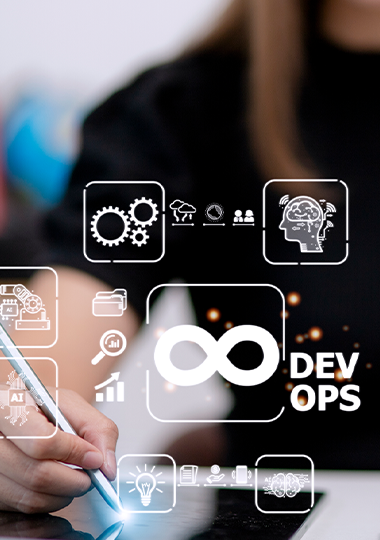 Our DevOps consulting services include:
DevOps assessment and strategy planning
Helping you measure your DevOps maturity by assessing the existing IT infrastructure and its capabilities with our DevOps consulting services. We analyze the current state of your DevOps services and solutions by building necessary actionable plans, visualizing your goals, and identifying quantitative metrics.
Environment setup and implementation
Analyzing your current DevOps environment and starting a streamlined collection of essential resources to set up the required environment, which can, later on, be implemented and integrated within the cross-functional teams. We foster a culture of collaboration to strategize, design the roadmap, and faster the application releases.
Infrastructure testing and release planning
Verifying all the infrastructure components including hardware, software stacks, tools, etc which are necessary for the deployment of the product along with managing the releases into the DevOps pipelines. We enforce a frequent-testing policy in a more efficient manner, assuring quality maintenance of your product.
Process automation
Utilize leading automation tools to automate the entire process pipeline, covering builds, performing quality checks, QA testing, deploying code, and more. Our DevOps consulting services aim to optimize the speed and reliability of the software delivery and minimize the possibilities of downtime and errors.
Security integration
Crosscheck and perform end-to-end security integration with our DevOps consulting services using industry-leading security software, ensuring that your entire DevOps environment is properly safeguarded. We incorporate security testing into the CI/CD pipeline, use code to manage infrastructure, and secure applications & configuration management practices.
DevOps automation
Automate your delivery cycles, and manage processes and deployments smoothly and completely. We help you seamlessly move processes in pipelines with reduced costs and fewer delays. Our team of subject-matter experts helps your business in implementing agile methodologies, and practices to support the development process, and optimize the speed & reliability of the software delivery process.
DevOps launch consulting
Leverage connected and automate development, deployment, and testing of your applications at any stage of their life cycle with our DevOps consulting services. Upskilling your team in ways of working and DevOps tools implementation, carrying out strategic planning, assisting in the solution setup, and creating a detailed implementation roadmap for your business with our DevOps launch consulting services.
DevOps project recovery consulting
Helping you to analyze & bridge the knowledge gaps in DevOps methodologies & tools, optimize automating testing coverage, cope with CI/CD configuration errors or other technical problems, and fix collaboration among testing, development, and operations teams with our DevOps project recovery consulting services. We also provide ongoing support and maintenance for DevOps processes and infrastructure.
DevOps tech consulting
Guiding your team in the DevOps technology to be used and choosing, installing & configuring the right tools for your applications for an efficient DevOps environment. We also assist you in identifying and troubleshooting the bottlenecks, if any, in the pipeline and optimizing the flow of your applications.
Why Daffodil Software?
Meaningful Difference, Real Value
Recognized by Leading Analysts:





Global Team and Mature Processes:
Diverse workforce located throughout the world with world-class and integrated processes
1200+ people
20 years of software engineering excellence
Offices in US, UK, UAE, and India




Dedicated Practices & Consulting Approach:
Uncover the right tech for your toughest business problems through our team of seasoned subject matter experts and technologists. Dedicated practice heads for:
AI Solutions
QA & Testing Automation
Mobility
DevOps
Robotic Process Automation
Microsoft Technologies
Open Source Technologies
Salesforce
---
Strong Associations and Partnerships:






Why choose Daffodil Software as your DevOps consultant?
Offering services such as integration, code management, building, testing, configuration on cloud platforms, and monitoring, our team of subject matter experts follows a tech stack combining tools and technologies for your project requirements. We include tools such as continuous integration tools, cloud platforms such as AWS & Azure, version control systems, ChatOps tools, and code quality tools, among others.
Implementation methodology
Assessment of the current business's state, development of DevOps culture, identification of DevOps process, selection of toolchain, ensuring security, and monitoring of metrics are some of the methodologies we use while implementing software applications. The specific methodologies may vary according to the requirements of the clients and projects.
Ensuring that you generate the maximum value for your business by providing our DevOps consulting services which are best suitable for your organization. We help you optimize expenses & efforts by reducing errors, increasing efficiency, reducing downtime, improving security, increasing scalability, collaborating with stakeholders, and optimizing processes.
Reliable DevOps Toolchain Utilization
Pick and choose your preferred tools, environments, and configurations for a complete toolchain that's seamlessly integrated with AWS, Azure, or GCP. Our specialized DevOps and cloud migration consulting service will optimize your code deployment workflow.
Leverage the most reliable open source as well as licensed third-party integrations for delivering high-quality software faster. Continuously process multiple builds parallelly and avoid downtime. Preconfigure application updates to handle overall DevOps complexity with an apt toolchain, so that developers are freed up to focus on innovative software development strategies.
We create agile, technology-forward, and adaptable DevOps consulting services to keep you ahead of the competition.
Watch our brand video.
Get your first free consultation session with us!
Sign up for a 30 min no-obligation
strategic session with us
Validation of your project idea/ scope of your project
Actionable insights on which technology would suit your requirements
Industry specific best practices that can be applied to your project
Implementation and engagement plan of action
Ballpark estimate and time-frame for development
Frequently answered questions (FAQs)
DevOps is a set of practices that combines the words 'development' and 'operations' to bridge the gap between the development and operations teams, allowing for quicker and more dependable software development, testing, and release.
The DevOps consulting services help you to accelerate the onboarding of applications by using end-to-end delivery & toolchain pipelines and assisting you in automation, monitoring, and cloud adoption.
Consider both your needs and the services provided by the organization when selecting the best DevOps consultants. During the initial consultation session, explain your needs in detail, including the app or software development process, clientele, and previous experience working on projects comparable to yours. Additionally, confirm the compatibility of your goal and the offered project, and take into account any special qualities your product demands. Establish a strong line of communication with the appointed project manager to ensure that your vision is carried out as planned.
Our DevOps consulting process includes:
Assessment: We help you analyze present IT operations and figure out the areas for improvement.
Strategy: We develop customized DevOps according to the business goals and objectives.
Implementation: We assist you to optimize IT operations by implementing the required tools, practices, and processes.
Monitoring: We measure and monitor the effectiveness of the project implementation and suggest ideas to make the required changes wherever necessary.
Continual improvement: We continuously help you to improve and evaluate your DevOps processes to ensure optimum performance, results, and effectiveness.
Our DevOps consulting services use technologies such as: