Success Story
Daffodil Software helps Floom to develop a community-focused social media application

Launched in January 2023, Floom is a dynamic community platform designed to empower, connect and inspire women, moms and beauty enthusiasts across the globe.
Users from all walks of life can join specialized communities, share authentic product recommendations, engage in vibrant discussions & make meaningful connections on the platform.
With an array of features that include a rich repository of questions and answers, personalized video insights, and specialized communities, Floom is designed to enhance user journey and deliver an unmatched community experience.
Floom envisioned becoming a thriving community hub for women, moms, and beauty enthusiasts. The aim was to foster genuine interactions and unbiased product recommendations in a welcoming digital space. The client aimed to harness a data-driven development approach to extract valuable insights, understand user behavior, and build the application accordingly.
With its vision set, Floom approached Daffodil Software to help build a connected community space, tackling all its limitations.
The foremost challenge that came across was the task of maintaining the authenticity of user recommendations and reviews. Striving to encourage users to share their unfiltered opinions on the platform presented a significant hurdle. Secondly, the platform encountered a significant challenge in effectively organizing and presenting relevant content to its users. Extracting meaningful insights was yet another challenge at hand. Daffodil's team also focused on keeping user engagement at the center of its strategy for Floom, playing a pivotal role in the project's success.
Based on the requirements in mind, Daffodil Software applied a comprehensive approach to tackle the below limitations.
Maintaining Authenticity of Recommendations: Floom aimed to encourage genuine, like-minded users to share their opinions on the platform. However, maintaining authenticity in user recommendations and reviews was a significant challenge.
Reducing Redundancy: Categorizing and presenting popular Q&As effectively was another task at hand. These Q&As were relevant to users' questions, but they appeared all at once, creating an extensive & overwhelming list that proved challenging to derive value from, despite their similarities.
User Engagement: Floom focussed on achieving high user interactions right from the start requiring strategies to enhance engagement and create a connected community.
The team began by deeply understanding Floom's business idea & challenges and assisted in turning its product vision into reality by developing Floom app for Android & iOS platforms.
The project unfolded in 2 phases: Data-driven software development and data-driven user engagement. This approach allowed us to consider user actions and feedback, showcasing how our data-driven software engineering sets us apart from conventional methods.
Data-Driven Software Development:
The Daffodil team orchestrated the solution architecture, shaped the data structure, devised the user interface, and introduced an MVP in close collaboration with Floom's product owner and core developers. Their journey embarked with an exhaustive analysis of the business concept, aiding Floom in clarifying its product vision and outlining priorities.
The essence of data-driven software engineering revolves around a consumer-centric approach, encompassing consumer behavior analytics and design iterations guided by user insights. This iterative process made it easier for the client to achieve the intended goal of the
product.
The app's MVP was constructed employing NodeJS and MongoDB for backend functionality and ReactNative for frontend. A significant emphasis was laid on analytics, comprehensively tracking user journeys and extracting actionable insights to enhance the app's performance.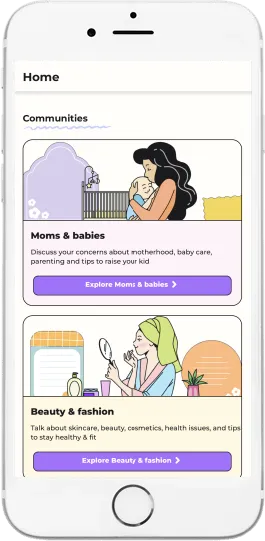 Following the MVP's launch, the product design team harnessed Mixpanel – a tool used to analyze key user actions. This data-driven analysis facilitated improved conversion rates, identified high and low-performing user segments, and highlighted the friction points. Mixpanel offered a profound understanding of optimal user conversion strategies. Notably, it empowered the product design team with data that showcased areas of highest user drop-offs.
For comprehensive user insights, CleverTap was used – an integrated platform leveraging app analytics and marketing functionalities to draw key user insights. These insights into user behavior served as the foundation for crafting a market-ready version of the Floom app.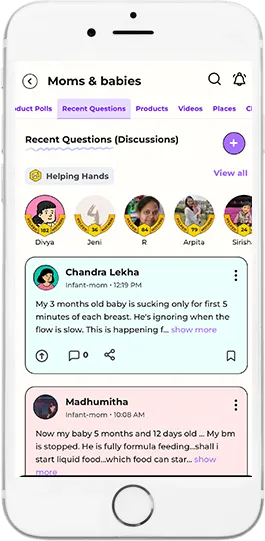 Data-Driven User Engagement:
Moving ahead in the development process, the next phase was data-driven user engagement. The objective was to establish a meaningful connection between users and the Floom app. Many standout functionalities were developed based on the client's expectations backed by the insights derived from CleverTap such as:
Specialized Communities
By creating specialized communities such as Mom & Babies, Beauty & Fashion, Daffodil empowered Floom's users to connect with like-minded individuals, fostering genuine interactions.
Interactive In-app Features
Daffodil introduced an array of features to bolster authenticity and engagement. These included Chat feature, Polls, Video library, Local directory to name a few. In addition to offering authentic product suggestions, the Floom app provides users the option to purchase highly-rated products by redirecting them to various eCommerce vendor websites within the app through an "In-app Buy" feature.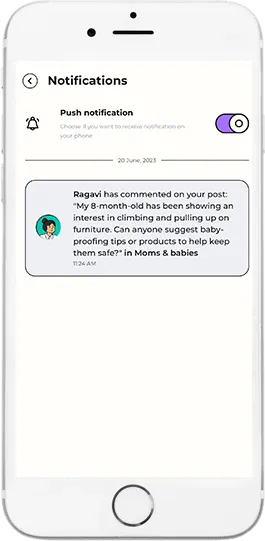 Reduction of Redundancy
To streamline user engagement and content consumption, Daffodil implemented Most Asked Questions (MAQs) & identified 34 focused topics such as breastfeeding, colic baby, vaccination, weaning, postpartum depression, diaper and rashes, c-section etc. based on search data derived from CleverTap. Further, under each category, showcased the top 10 most relevant Q&As matching the user's query, maximizing value for users.
Personalized Notifications
Automated in-app notifications were introduced, ensuring users received information tailored to their interests and inquiries. This optimization minimized notification clutter and provided relevant content to the users, enabling high engagement.
Interactive UI
Daffodil's development of Floom's interactive user interface (UI) sparked impressive engagement, leading to nearly 900 weekly comments. Additionally, the introduction of the "Helping Hands" feature incentivized users to contribute actively, creating a virtuous cycle of engagement and helpfulness within the community.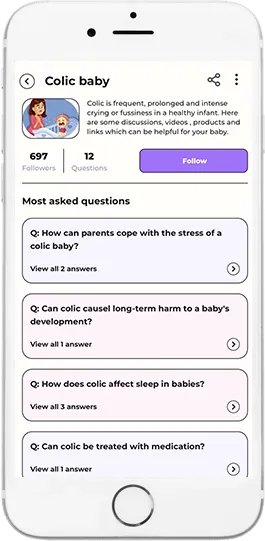 The Impact
In collaboration with Daffodil Software, Floom was developed into a thriving community space with ~11k active users in just 8 months. By addressing challenges related to authenticity, redundancy, engagement, and inclusivity, Floom achieved remarkable growth with weekly interactions touching up to ~900 per week. The platform's innovative features, personalized interactions and evolution into specialized communities, transformed it into a trusted space for sharing unbiased recommendations and enabling a connected experience. The outcome was a community-based application centered on user needs, prioritizing authentic product recommendations.
Read Related Case Studies
Get in Touch
Sign up for a 30 min no-obligation strategic session with us
Let us understand your business objectives, set up initial milestones, and plan your software project.
At the end of this 30 min session, walk out with:
Validation of your project idea/ scope of your project
Actionable insights on which technology would suit your requirements
Industry specific best practices that can be applied to your project
Implementation and engagement plan of action
Ballpark estimate and time-frame for development