Success Story
Daffodil helps ZeusIP to modernizes its legacy case management system and improve operational efficiency by 30%

ZeusIP is a law firm, specializing in intellectual property laws with a global presence. Represented by professionals specializing in diverse spheres of Intellectual Property Laws, ZeusIP works in a team structure to efficiently deliver services as per global quality standards. They bring together professionals from a diverse range of skills and backgrounds, including engineering, physics, chemistry, economics, etc.
30%

Increase in Operational Efficiency

1.5TB

of Data Migrated

2x

Faster Time to Market

67%

Reduction in TAT
Documents are core to a law firm's business. They use documents all day, from contracts, letters, emails to pleading and what not. There are multiple documents associated with every case, with each document having multiple versions, modifications, and owners. Hence, managing this grapevine of documents becomes imperative for legal business success.
In order to maintain the data of their cases, ZeusIP was running a legacy application built using MS Access. Some of the key challenges that ZeusIP faced were:
Manual entry of case data: The legacy application involved manually copying emails, attachments, and other documents to the system. This solution was time-consuming and was prone to errors.
No central hub for case information: ZeusIP lacked a centralized repository of data for their cases and the data was saved in several independent data silos.
More than 1.5TB of disorganized data: ZeusIP had 1.5 TB of case data stored in various file formats such as text, images, videos and PDF documents, making the searching process a challenge.
No provision for disaster recovery: ZeusIP had to separately store a replicated file for each document, leading to inefficient utilization of storage capacity.
Analyzing the scope of the solution, technicalities involved, and time-to-market, Daffodil proposed a low code development approach using reusable components. Low-code development is a modular approach to application development that significantly reduces a product's time-to-market. It uses a reusable, component-based architecture for development that boosts the app development and delivery cycle. In the case of ZeusIP, reusable components were expected to reduce development time by half.
Daffodil  initiated the development process by understanding the core business process and data flow within the organization. The roles of different departments and their data requirements were apprehended to create a flowchart for the entire organization. Daffodil developed a case management system that allowed ZeusIP to manage their records, making data searching, lookup, and collaboration easy.  In order to make data searching and lookup convenient, each case was associated with a unique case id. Some of the key functionalities that Daffodil implemented were: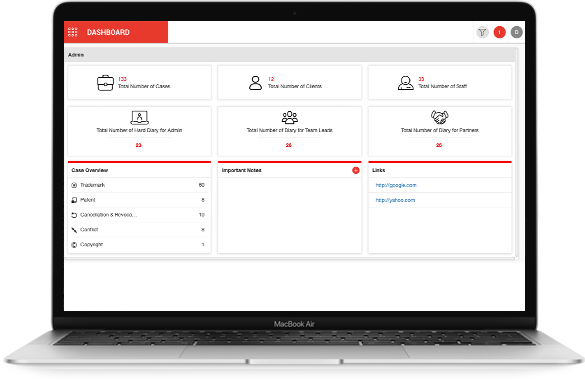 Automating email processes: Automation of the email process on the basis of case and client, and allowing all users to read emails simultaneously in near real-time.
Migrating data into DBMS: The entire 1.5Tb of disorganized business data was migrated into DBMS with relevant metadata and tags.  existing business data, which was unorganized in MS Excel and MS Access was migrated into MongoDB DBMS.
Making data search trouble-free: Daffodil incorporated a user-friendly search functionality using MongoDB full text search in the application that allows users to locate content by searching for specific words, phrases or case id. 
Making data backup easy, fast and lightweight: Incremental data backup was integrated with the application in order to make the data backup process fast and lightweight. Since incremental backup copies only data that was changed since the previous backup, it reduces the storage requirements as well as bandwidth load.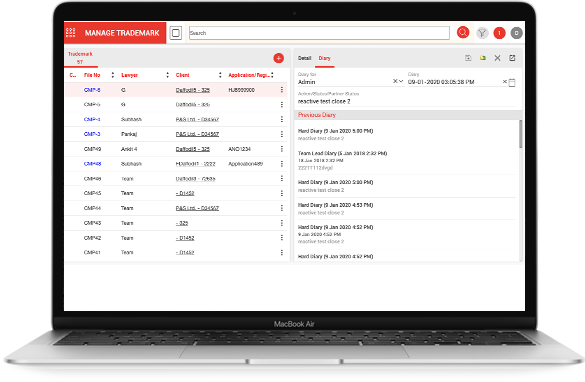 Impact
By recreating the architecture and following the low code development approach, Daffodil was able to save about 800 hours of development time. The process of 'Trademark Journal' lookup which previously took 10 man-days of effort every month, was completely eliminated by the automation of the task. Users need to just download the journal from the government website and upload the PDF in the system. The integrated email solution automated the entire email process. Now, no efforts are required in arranging the data according to clients and cases. Emails can now be exchanged within the application, without the need of an external email client. The lookup process is automatically executed by the application and if any matching data is found, it is displayed in a window. ZeusIp has reported a significant increase of 30% in the efficiency of their operations.
30%

Increase in Operational Efficiency

1.5TB

of Data Migrated

2x

Faster Time to Market

67%

Reduction in TAT
"We are extremely impressed by the way team Daffodil approached the problem we were facing. They first deeply understood our internal operations before even initiating the development process. And once the schema was ready, they developed and implemented the solution at an amazingly fast speed."
Gunjan Dhoreliya, Managing Partner, ZeusIP
Read Related Case Studies
Sign up for a 30 min no-obligation strategic session with us
Let us understand your business objectives, set up initial milestones, and plan your software project.
At the end of this 30 min session, walk out with:
Validation of your project idea/ scope of your project
Actionable insights on which technology would suit your requirements
Industry specific best practices that can be applied to your project
Implementation and engagement plan of action
Ballpark estimate and time-frame for development