Hire Android App
Developers
Dedicated Android developers to help you fulfill your skill gap and accelerate project delivery
Our Android App Development Services Include
Android UX & Design
Create engaging user experience with intuitive UI/UX that is aesthetically appealing, flawless to use, and drives the user to take the desired action.
Native Android Apps
Build and maintain performance-critical and quality-driven native android apps with experienced app developers and creative designers.
Enterprise-Grade Android Apps
Develop enterprise-level applications with expertise in features like high-level security, payment gateway integrations, systems integration with ERP and CRM, Android device management, etc.
App Maintenance & Testing
Upgrade your app functionality with our continuous maintenance, support and testing services, based on various metrics like screen rendering, API latency, app crash analytics and more.
Industry Specific Solutions
Avail a wide array of android app development services across 12+ business domains like e-commerce, healthcare, fashion, education, gaming, travel, social networking, etc.
High-end Technical Expertise
Hire Android developers with expertise in Android Studio, Kotlin, Java, SDK/NDK, Android Location APIs, Android Media APIs & related technologies
Gain a competitive edge for your business through: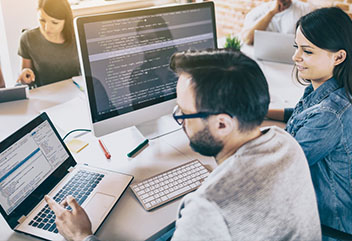 Product Engineering
Realize your vision with a tailored software, delivered on-time and within your budget
Build my product