Build the future of connectivity with our complex-free IoT software development services, curated just for you
With over 20 years of software engineering experience, Daffodil Software has been customizing, designing, developing, and deploying software services for clients, ideal for applications in the healthcare, oil & gas, manufacturing, construction, media & entertainment, banking, real estate, and retail industries. Also, being an IoT software development service provider, we aim at bringing new revolution, efficient services, and systematic development to your complex IoT solutions. We help you transform your ideas into visions to provide real-time data connections with other IoT systems over the internet. We hold experience working with 100+ clients across the globe in various software development, technology innovation, and other predominant domains.
Enabling technocrats and tech-savvy to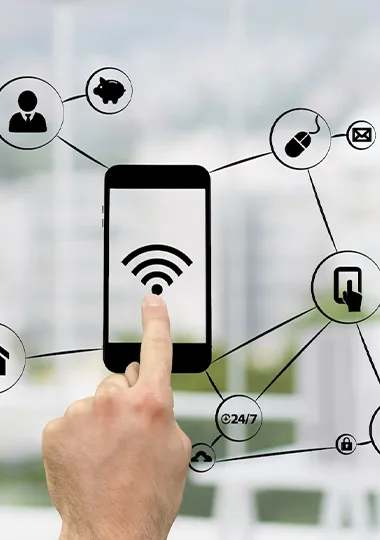 Our IoT software development services include
IoT strategy and advisory
Get expert consultation around defining the problem statement along with recommendations on the solution blueprint. Develop a roadmap of your business with us, design custom IoT devices & sensors, and ensure effective & quick solution advisory for your IoT-based needs emphasizing the best industry practices.
IoT application development
Develop custom software solutions to handle structured or unstructured data to identify and develop new mobile / web applications. We help you discover, interpret and communicate relevant and sound patterns in data and get rich visualization of the resulting insights and reports. Generate actionable insights with our IoT-based end-to-end conceptualization, proof-of-concept, designing, development, and cloud deployment solutions.
Intralogistics solutions
Custom intralogistics and asset-tracking IoT solutions specific to your logistic needs, business needs, employee processes, and assets. Our robust and inter-connected IoT services can also help you reduce risk, improve ROI, and generate new revenue models to enable you to track your equipment or vehicles in real time.
Wearable technology
Develop embedded software for different wearable-optimized IoT devices and wearable tech trends being utilized in various industries such as healthcare, retail, hospitality, etc. Our expertise in development ensures the seamless integration of wearable devices with other IoT devices.
System integration
Our team of IoT experts helps you seamlessly integrate various IoT-enabled devices with business management software, ERP, CRM, SMS, email clients, etc. Make data-backed decisions with us with real-time data flow and intuitive data visualization techniques. We also create an IoT platform for you to enable monitoring, communicating, and managing IoT devices and data, along with seamless data exchange on cloud platforms.
IoT solution testing
Rigorous testing of IoT devices and software to test conformance with standards, interoperability, security, load management, etc. Ensure a flawless experience through IoT application development solutions creating robust and bug-free IoT applications.
Our internet of things development services success stories
Our custom IoT software development services for end users & businesses
Why Daffodil Software?
Meaningful Difference, Real Value
Recognized by Leading Analysts:





Global Team and Mature Processes:
Diverse workforce located throughout the world with world-class and integrated processes
1200+ people
20 years of software engineering excellence
Offices in US, UK, UAE, and India




Dedicated Practices & Consulting Approach:
Uncover the right tech for your toughest business problems through our team of seasoned subject matter experts and technologists. Dedicated practice heads for:
AI Solutions
QA & Testing Automation
Mobility
DevOps
Robotic Process Automation
Microsoft Technologies
Open Source Technologies
Salesforce
---
Strong Associations and Partnerships:






Customized IoT solution for the entire internet- and networking-based industry
We provide you with full-spectrum healthcare IoT software development services for all healthcare stakeholders. From remote patient monitoring to location tracking, smart medical devices/hospitals to smart lighting, we fulfill all your healthcare requirements with our innovative & customized IoT software development services.
Our IoT development services for your IoT-based sensors and systems make it possible to safely monitor gas pipelines and storage tanks safely in the oil & gas industry. We build software for leak detection in IoT-connected systems and help you closely surveil asset performance and their conditions for a safe & hazard-proof environment.
By utilizing our IoT development services, tailored for the retail industry, you can plan replenishments and track inventory. To help with traffic management and provide a more individualized in-store customer experience, we deploy and provide the right direction for your IoT-based ideas of beacon-equipped devices.
Get started with custom IoT software development services
Future-ready IoT expertise
We create agile and adaptable IoT software development services to help you resolve the complexity of your IoT devices and systems.
Watch our brand video.
Let's begin with our IoT software development services for your business
Sign up for a 30 min no-obligation
strategic session with us
Validation of your project idea/ scope of your project
Actionable insights on which technology would suit your requirements
Industry specific best practices that can be applied to your project
Implementation and engagement plan of action
Ballpark estimate and time-frame for development
Frequently answered questions (FAQs)
The internet of things is a network of interconnected items and technologies that can enable communication between devices and the cloud as well as between the systems or devices.
This IoT application software has machine learning algorithms for evaluating those connected data that are existing in the cloud and exchanging them with other IoT systems over the internet. Performance indicators, statistics for the mean time between failures, and other data (utilizing real-time IoT dashboards & alerts) can be visible with the help of this software solution.
When choosing the top IoT software service provider, keep your needs in mind and compare them to the services the company offers. Explain your needs in detail and question the firm's executives about their development process, clientele, and experience working on projects similar to yours at the initial consulting meeting. Further, check the compatibility of your hardware with the offered software and consider the specific functionality which you needed for your devices. Establish a strong channel of contact with the designated project manager to ensure that your vision is being realized as you had hoped.
The cost-estimating method used by Daffodil Software is changeable and adjusts to the demands of the project and the utilization of resources. To estimate how long each stage of the development process would take and how many developers would be required to complete the project on schedule, we first define the project scope and its phases. A quote is also suggested considering the complexity of the deliverables.
The IoT technologies can be selected on base of the product and its intended use. However, connectivity is the key consideration that allows IoT gadgets to connect to the internet. Therefore, it is important to consider both – the connectivity options by the device and how well these alternatives match the needs of the deployment environment when selecting an IoT technology.
Our IoT experts cover an entire gamut of IoT solutions including device management, edge computing/analytics, enterprise integration with business systems, data integration & stream processing, cold path & advanced analytics, and data visualization.