Alexa Skills Development
Custom voice-enabled applications for smoother and faster business operations
Our Alexa Skills Development Services
Custom Skill Development
Create natural and engaging voice experiences, with custom-built Alexa interaction models, using our expertise in Amazon Alexa skill development.
Mobile App Integration
Integrate Android or iOS apps with your Alexa-enabled device, to access Alexa Voice Services (AVS) and to add intelligent voice control to your mobile app.
Integration With ERP Systems
Enable voice-driven management of business operations that pulls live data from your ERP system, with the integration of Alexa skills.
Alexa Skill Testing
Ensure a bug-free delivery of Alexa skills, with our rigorous testing of skill functionality, including progressive responses, dialogs and entity resolution.
Localization
With the Amazon Alexa support for multiple languages and countries, we provide region-specific services to you for expanding your user base and potential customers.
Technical Expertise
Hire dedicated Alexa skill developers having expertise in voice assistant technologies and programming languages like Node.JS, Javascript and Lambda.
Gain a competitive edge for your business through: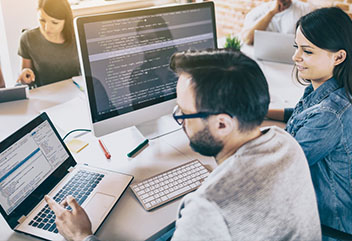 Product Engineering
Realize your vision with a tailored software, delivered on-time and within your budget
Build my product