Salesforce Community Cloud
Implementation
Helping you to leverage Salesforce Community Cloud in order to transform the way you collaborate Salesforce to your customers, distributors, resellers, suppliers, and partners.
Our Salesforce Community Cloud Implementation Services Include:
Community Strategy
Daffodil helps you to identify the system requirements and customization required and provides you with a strategic roadmap for a smooth implementation of Salesforce Community Cloud.
Community Experience & Design
Daffodil helps you develop custom templates, security models, and user experience to quickly set up a community and then customize it with your company's branding, share Salesforce records with community members, and work with them in a collaborative space that meets your needs.
Maintenance & Support
Preventive and pro-active software maintenance and support services to ensure that your Salesforce Community Cloud stays in line with the latest technologies, updates and features.
Gain a competitive edge for your business through: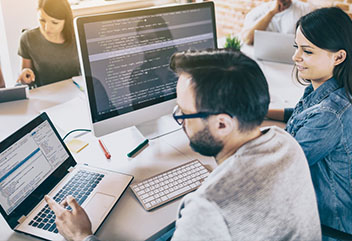 Product Engineering
Realize your vision with a tailored software, delivered on-time and within your budget
Build my product