Gamification Assisted Learning Solutions
Improve employee productivity, learning, and user engagement by turning your processes into game elements
Gamify your business systems through:
Process Gamification
Develop custom games, game logic, and implement game mechanics for any content type including e-learning, corporate training, marketing and online shopping;
Custom Game Design
Leverage popular gaming engines to model, skin, and animate 2D/3D gaming assets. We help you create and optimize animations, graphics, video, audio, and scripts; and develop responsive design across devices.
Game Analytics Integration
Integrate analytics to capture and manage user data, engagement/progress metrics, measure responses, and create custom dashboards and reports.
Gain a competitive edge for your business through: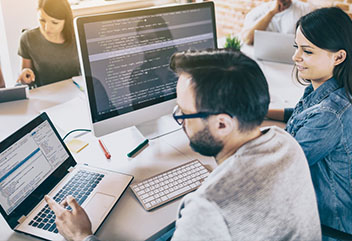 Product Engineering
Realize your vision with a tailored software, delivered on-time and within your budget
Build my product