Magento Development
Company
Elevate your e-commerce business with ease, flexibility, and scalability of Magento
Why Magento?
Unlimited Customization
Covert your visions to life through out-of-the-box features that offer flexibility, uniqueness, scalability and unlimited ability to customize.
Rich Commerce Experience
Create unique shopping experiences through customer segmentation, quick purchase processes, drag-and-drop merchandising and built-in responsive themes.
Third-Party Integrations
Seamless third-party integrations that range from marketing features to shipping functionality along with custom integration ability to meet dynamic business goals.
Content Management
Magento Commerce allows automated data consolidation, customized data visuals, and multiple websites to run, all with one back-end system.
Unified Cloud eCommerce Solution
A single cloud eCommerce solution to create unique B2B and B2C experiences by offering enterprise power, open-source flexibility, and scalability.
Secure Infrastructure
Build on a modern technology stack with a highly secure environment, no third party access and leading infrastructure services like Faslty, AWS, and New Relic.
Gain a competitive edge for your business through: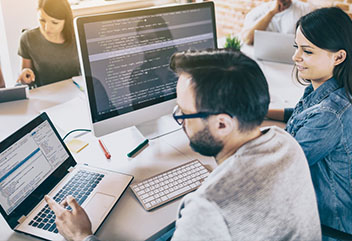 Product Engineering
Realize your vision with a tailored software, delivered on-time and within your budget
Build my product