Delivering Business Value with our AI Expertise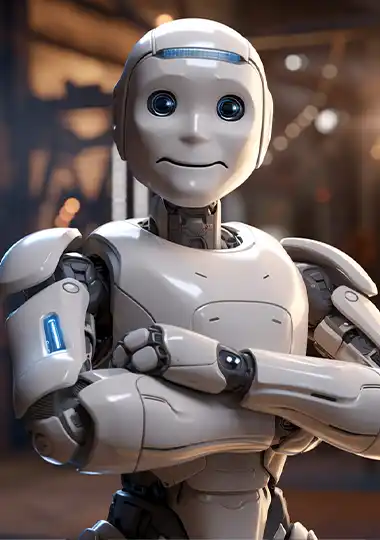 Empowering your AI journey with our proven AI development services & solutions
End-to-end AI product development
As a leading custom AI development company, we build innovative AI solutions powered by cutting-edge algorithms and techniques. Our expert team takes your vision from ideation to seamless deployment, crafting bespoke AI products that precisely match your requirements. Embrace the full potential of AI with our end-to-end AI development services.
AI/ML consulting
Empower your organization with our results-driven AI/ML consulting. We conduct thorough assessments of your infrastructure and data readiness, provide expert recommendations, and create a roadmap for AI integration that aligns with your business objectives. Let our AI/ML consulting experts be your trusted partners in your AI journey.
Generative AI
Shape your brand's narrative with our Generative AI expertise. Leveraging GPT4, GPT3, GPT 3.5, Midjourney, and DALL-E, we help you create compelling brand stories that resonate with your audience. The skill of these AI models in dissecting visual content extends to providing valuable support for tasks including brand recognition, data interpretation, strategic insights, visualization, and a wide spectrum of diverse applications.
Recommendation engines
Power your business with AI-driven recommendations that resonate with your audience. Our AI developers build Recommendation Engines that employ machine learning and deep learning techniques to understand user behavior, enabling your platform to deliver highly relevant content and products. Unlock new revenue streams and drive customer satisfaction with personalized AI solutions.
Chatbot development
Redefine the way you connect with customers using Smart AI Assistants and Chatbot. Powered by natural language processing, these virtual agents engage users in natural, human-like conversations while delivering personalized responses and proactive assistance. Elevate your customer support, increase user satisfaction, and optimize operations with intelligent conversational AI solutions.
Natural Language Processing
Break language barriers with Natural Language Processing (NLP) solutions. Our AI experts enable machines to comprehend human language, extract meaning, and respond intelligently. From sentiment analysis to language translation, our expertise brings valuable insights and automation to your business.
Computer vision
Elevate your applications with visual intelligence. We build computer vision solutions that deliver precise object recognition and image classification. By skillfully integrating OCR, facial recognition, and biometric authentication, our AI developers create smarter, more intuitive systems that effortlessly derive insights from visual data.
Robotic Process Automation
Transform your business with our dedicated AI specialists who build intelligent solutions. Leveraging RPA and advanced technologies, we accelerate business processes, ensuring rapid turnaround times. Experience streamlined operations and peak performance with our strategic automation, elevating your organization's market presence.
Predictive analytics solution
As a leading AI development company, we offer Predictive Modeling services that go beyond standard data analysis. Our expert team leverages data science techniques, including advanced algorithms and machine learning models, to unlock hidden insights within historical data. Elevate your decision-making, forecast market trends, and uncover growth opportunities with our dynamic predictive capabilities.
ChatGPT integration services
Boost your customer engagement with our ChatGPT Integration Services. By incorporating ChatGPT into your processes, you can have interactive and tailored conversations that cater to your customers' needs. Whether it's solving problems, offering explanations, or presenting options, our integration service enables your business to enhance customer experience. Let's team up to bring smart AI conversations to your customer interactions.
AIOps
Empower your IT teams with AIOps, the next-gen approach to operations. Using advanced AI algorithms, we proactively monitor your infrastructure, predict potential issues, and offer actionable insights. Embrace agile operations, reduce mean time to resolution, and ensure business continuity with our AIOps expertise.
Crafting smart solutions for your unique business requirements
In today's business landscape, the impact of Artificial Intelligence on organizations cannot be overlooked. It is not just a passing trend but a strategic move to secure the future of your organization. From streamlining operations to optimizing decision-making, AI has become an indispensable tool for businesses.
As per recent research findings, 87% of organizations are convinced that AI and machine learning can lead to substantial advantages, including improved revenue growth, streamlined operational efficiency, and elevated customer experience.
As a leading AI development company, we specialize in creating custom AI/ML solutions that redefine processes, provide invaluable insights, and optimize operations. Our cutting-edge capabilities encompass predictive analytics, facial recognition, voice assistants, natural language processing, chatbot development, and much more. By leveraging our expertise, your organization can make data-driven decisions, amplify marketing strategies, and optimize business processes.
Together, we will unlock the true potential of AI and create a strategy that elevates your organization's position in the market. Let's collaborate and make your AI-driven future a reality!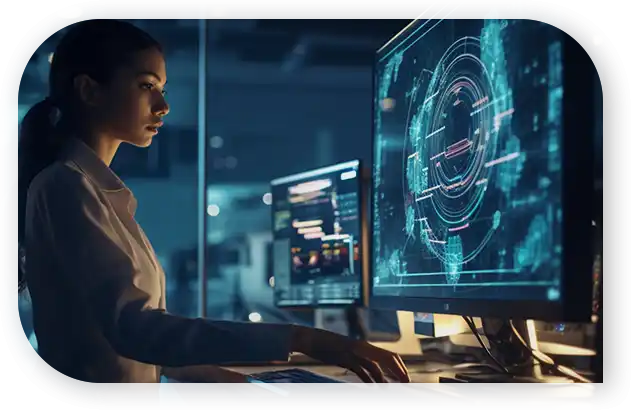 Selected success stories in healthcare software development
Business Applications of AI
Tackling challenges head-on through our AI-first approach
Why Daffodil Software?
Meaningful Difference, Real Value
Recognized by Leading Analysts:





Global Team and Mature Processes:
Diverse workforce located throughout the world with world-class and integrated processes
1200+ people
20 years of software engineering excellence
Offices in US, UK, UAE, and India




Dedicated Practices & Consulting Approach:
Uncover the right tech for your toughest business problems through our team of seasoned subject matter experts and technologists. Dedicated practice heads for:
AI Solutions
QA & Testing Automation
Mobility
DevOps
Robotic Process Automation
Microsoft Technologies
Open Source Technologies
Salesforce
---
Strong Associations and Partnerships:






We create advanced AI software solutions to help you gain a competitive advantage for your business. 
Watch our brand video.
Next-gen technologies to take advantage of:
Your first AI consulting session is on us!
Sign up for a 30 min no-obligation
strategic session with us
Validation of your project idea/ scope of your project
Actionable insights on which technology would suit your requirements
Industry specific best practices that can be applied to your project
Implementation and engagement plan of action
Ballpark estimate and time-frame for development
Frequently asked questions (FAQs)
Absolutely. The process involves several key stages:
Discovery and Planning: We work closely with you to define project goals, scope, and data requirements.
Data Collection and Preprocessing: We gather and clean relevant data from various sources, ensuring its quality and accuracy.
Model Development: Our data scientists create and train AI models tailored to your specific needs, iterating to achieve optimal performance.
Testing and Validation: We rigorously test the model using real-world data to ensure it meets your expectations and delivers reliable results.
Deployment: Once validated, the solution is deployed into your infrastructure, integrating seamlessly with your existing systems.
Monitoring and Maintenance: We continuously monitor the solution's performance, making necessary updates to maintain its effectiveness.
We begin by conducting in-depth consultations to understand your business objectives, challenges, and existing processes. This information guides our AI experts in tailoring solutions that directly address your needs. We maintain open communication throughout the development process, allowing you to provide feedback and make adjustments to ensure that the final solution perfectly aligns with your vision.
The cost of developing an AI solution is influenced by several factors unique to your project. These include the complexity of the solution, the amount and quality of data available, the specific functionalities required, and the scale of implementation. During our initial consultation, we'll gather detailed information about your project's scope and objectives. Based on this, we'll provide you with a customized cost estimate that transparently outlines the breakdown of expenses, ensuring it aligns with your budgetary considerations.
Success metrics are tailored to your goals. If you're looking to increase efficiency, we'll measure process time reductions. For customer engagement, we'll track metrics like click-through rates. We set key performance indicators (KPIs) during the planning stage, ensuring that our AI solutions drive quantifiable improvements in areas that matter most to your business.
We understand the importance of minimizing disruptions during the development process. Our project management approach is designed to ensure smooth progress while addressing potential challenges. Regular communication is key – we provide frequent updates on project status and milestones, allowing you to stay informed and prepared. In the event of unforeseen disruptions, we maintain open lines of communication to discuss potential solutions, adjust timelines if necessary, and keep your business operations as uninterrupted as possible.