Our software development services can help you: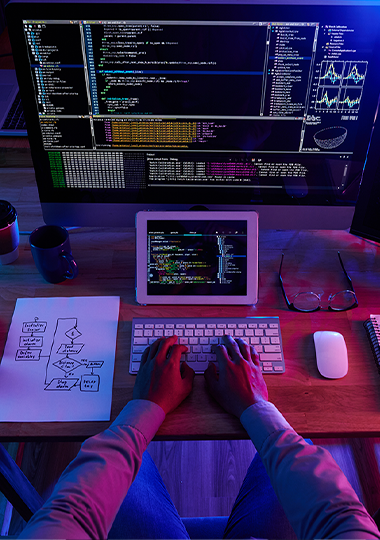 Discover our innovative solutions in software development
Custom software development
Our expertise lies in creating high-performance, intuitive software that is efficient and easy to use. Leveraging the power of latest technologies and adopting top-tier industry standards, we design software solutions that optimize business functionalities, elevate productivity, and enrich user interactions. Be it a sophisticated enterprise software system or a basic app for upgrading your business processes, our team is equipped with the necessary skills and expertise.
Mobile app development
Expand your business with our mobile application development services. Our dedicated team of developers is prepared to build scalable mobile applications, integrating a variety of features using advanced technologies such as IoT, AI, and blockchain, all customized to your specific business needs.
Web application development
We boast a team of developers skilled in crafting dynamic, interactive, and user-centric web applications. As a software product development firm , we employ cutting-edge technologies and adhere to industry standards to produce top-tier web applications designed to satisfy your business requirements.
Cloud application development
Our cloud application development services enable you to leverage the power of cloud technology for your business. We provide cloud-native application development, cloud migration, and cloud integration services, helping you achieve operational agility, cost-efficiency, and scalability.
DevOps services
Promoting cooperation between development and operations teams results in more efficient processes, shorter development cycles, and faster time-to-market. We employ a blend of lean and agile methodologies, automation instruments, and cloud-native technologies to speed up the software delivery process and enhance operational productivity.
Team augmentation services
Understanding the ever-changing landscape of the software development sector, we provide team augmentation Services as a versatile solution to enhance the skills of your existing team. This service is crafted to assist businesses in adjusting their development team size in accordance with project needs and schedules.
IT consulting services
Our IT consultancy services encompass an extensive array of sectors such as strategy and planning, system unification, cloud advice, cybersecurity, digital metamorphosis, among others. We collaborate closely with you to comprehend your business aims, present IT structure, and prospective expansion plans. This enables us to offer strategic counsel and feasible solutions that coincide with your business objectives and financial plan.
Enterprise IT services
Our Enterprise IT Services include a wide spectrum of solutions, ranging from IT infrastructure handling and data center services to cloud technology and cybersecurity. We provide solutions capable of adjusting to your organization's evolving requirements and expansion. We craft and execute tailor-made IT strategies that are in sync with your business goals, enhance operational effectiveness, and propel innovation.
Application support and maintenance services
Our Application Support Services designed to guarantee that your business applications are consistently updated, secure, and functioning at optimal levels. We offer 24/7 support, promptly resolving any potential issues, thereby reducing downtime and ensuring continuous business activities.
Software testing services
Our software testing services mobile devices, applications, and web platforms aim to provide a seamless, glitch-free user interaction. These services include functional testing, performance testing, security testing, and automated testing. We strive to ensure that your software is devoid of errors, secure, and operates at its best.
Managed IT services
Our Managed IT Services encompass every facet of your IT environment, ranging from network administration and data protection to cloud solutions and disaster recovery. As a software product development firm, our team of IT experts is always available, offering 24/7 support and active surveillance to guarantee the smooth and secure operation of your IT systems.
Are you driven to build transformative products by leveraging the power of next-generation technologies?
Our software product development services success stories
Software product development for different industries, technologies and business roles
Are you ready to revolutionize the tech world with innovative software solutions? Leverage the power of advanced technologies.
Delivering software product development solutions with unparalleled expertise
Daffodil Software, a leading software product development company, offers extensive solutions in software engineering. We are experts in turning complex software ideas into tangible realities, addressing all aspects of development, from ideation to maintenance. With more than 20 years of expertise, we have emerged as reliable allies to over 100 worldwide tech companies, and we are dedicated to aiding their digital evolution with our custom software solutions.
Our offerings are crafted to seamlessly merge with your existing tech infrastructure, delivering optimal outcomes and fostering business expansion. Whether it's boosting customer interaction or optimizing processes, our solutions provide significant advantages.
Our distinct methodology fuses cutting-edge technologies and best practices in the industry to consistently deliver high-quality results.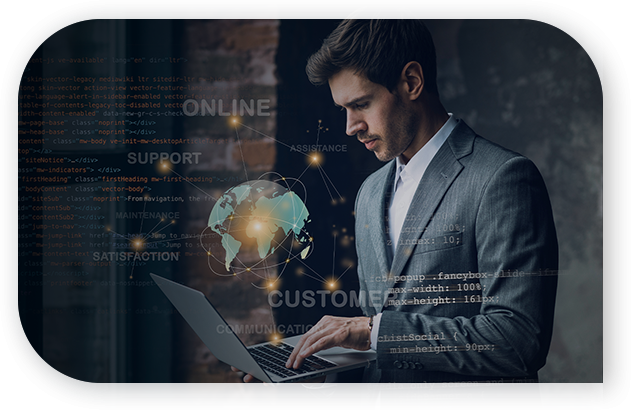 Why Daffodil Software?
Meaningful Difference, Real Value
Recognized by Leading Analysts:





Global Team and Mature Processes:
Diverse workforce located throughout the world with world-class and integrated processes
1200+ people
20 years of software engineering excellence
Offices in US, UK, UAE, and India




Dedicated Practices & Consulting Approach:
Uncover the right tech for your toughest business problems through our team of seasoned subject matter experts and technologists. Dedicated practice heads for:
AI Solutions
QA & Testing Automation
Mobility
DevOps
Robotic Process Automation
Microsoft Technologies
Open Source Technologies
Salesforce
---
Strong Associations and Partnerships:






Expertise in Creating Software Solutions for a Wide Range of Industries
We create software product development solutions enabling you to connect with your customers and build long-lasting relationships.
Watch our brand video.
Your first software product development consulting session is on us!
Sign up for a 30 min no-obligation
strategic session with us
Validation of your project idea/ scope of your project
Actionable insights on which technology would suit your requirements
Industry specific best practices that can be applied to your project
Implementation and engagement plan of action
Ballpark estimate and time-frame for development
Frequently asked questions (FAQs)
A software product development company specializes in creating, designing, deploying, and maintaining software for specific set of users, functions, or organizations. These companies typically work in stages like planning, designing, programming, testing, and bug fixing to develop and maintain applications, frameworks, or other software components. They may also offer services like customization of existing software, software integration, software consultancy, and more. They work in various domains such as web development, mobile app development, artificial intelligence, cloud computing, cybersecurity, etc.
The process of developing software typically involves the following steps:
1. Requirements Analysis: Understand and define the software's purpose, main features, and user needs.
2. Design: Create the software architecture and user interface design.
3. Implementation/Coding: Write the code using a suitable programming language.
4. Testing: Check the software for bugs and ensure it meets the original requirements.
5. Deployment: Release the software to the public or end-users.
6. Maintenance: Regularly update the software to improve it, fix bugs, or add new features.
Software product development is the process of designing, creating, testing, and maintaining a software product. This process involves several stages including requirement gathering, planning, designing, coding, testing, deployment, and maintenance. The goal is to create a software product that meets the specific needs of the users or solves a particular problem. This can range from creating a new software product from scratch, to modifying or improving an existing product. The process can also involve various methodologies such as Agile, Scrum, or Waterfall.
The software product development life cycle is a structured process for designing, developing, testing, and deploying a software product. It typically includes stages like requirement gathering, design, implementation or coding, testing, deployment, and maintenance.