Healthcare Information Exchange
HIE Software solutions enabling secure and reliable medium for healthcare information exchange
Our Healthcare Information Exchange (HIE) Solutions
HIE Architecture Engineering
Centralized or hybrid cloud based HIE architecture solutions, including development of messaging protocols (HISP, MIME, FTP, HTTP), web services (XML, JSON, REST), and APIs (REST, SOAP, JSON-RPC)
HIE Interface Development
Design and implement intuitive interfaces with graphical interpretation of data with real-time sharing of patient and medical data between disparate clinical information systems
HIE Interoperability Solutions
Integrate interoperable HIE functions into EMR/EHR software, hospital information & practice management systems (HIS/PMS), lab & exam equipment, medical IoT devices, or billing and insurance software
HIE Mobility Solutions
Develop cross-platform mobile applications and portals that provide role based access to physicians, patients and other stakeholders to remotely access and edit data.
Document Management Solutions
Digitization of intensive documentation processes that facilitate digital signatures, redlining, expiration tracking, role-based approvals and gating processes.
HIE Standards Compliance
Compliance with digital healthcare information exchange standards such as HIPAA, HL7, and Digital Imaging and Communications in Medicine (DICOM).
Gain a competitive edge for your business through: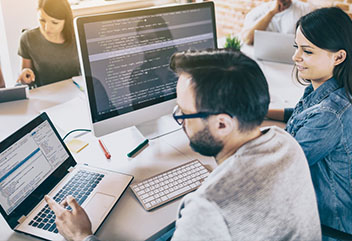 Product Engineering
Realize your vision with a tailored software, delivered on-time and within your budget
Build my product