LMS Development
Transform learning experience of your audience through custom, robust and scalable LMS software
Our Custom LMS Development Services Include:
LMS Software Development
Conceptualize, design and develop a learning management system with techniques such as activity streams, contests, badges, points, prizes, awards, real-time leader boards, progress bars, etc. to help promote training adoption within the organization.
Custom Learning Paths
Build step-by-step educational guides for employees or students. Effortlessly divide course structure into chapters and sequences, each containing practical exercises, tests, games and more.
Rich Learning Environments
Bring your course content alive with 2D and 3D graphics, avatars, quests, badges and more. Enable real-time communication tools to provide support for discussions, personal messages and calendar integration.
Gain a competitive edge for your business through: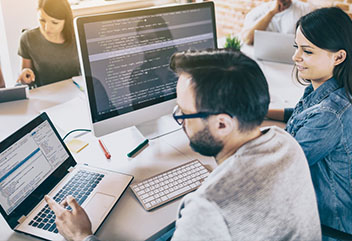 Product Engineering
Realize your vision with a tailored software, delivered on-time and within your budget
Build my product