SaaS solutions for the entire healthcare ecosystem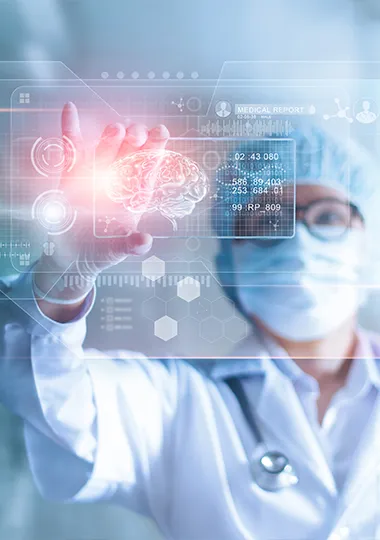 SaaS-based healthcare solutions which we can help you develop
Electronic health records (EHR) software
EHR software plays a pivotal role in your interactions with patients and other entities in healthcare. With a focus on the secure storage and easy accessibility of your patient data, we aspire to enhance your efficiency in providing patient care. Our expertise lies in creating tailored SaaS-based EHR software solutions that can enhance your interactions with patients and ensures immediate access to all critical clinical information.
Practice management software
Let us simplify your administrative and clinical tasks so you can concentrate on your top priority – delivering outstanding patient care. By developing a SaaS-based Practice Management software tailored for your needs we can automate your healthcare operations, ensuring a seamless, efficient practice that functions almost independently. This way, you can dedicate more time and resources to providing superior patient service.
Telemedicine software
Expand your customer reach by developing a SaaS based telemedicine software, an on-demand healthtech platform that offers medical services from a distance, thereby easing doctor's workload. By incorporating high quality video streaming technologies, which will help and provide seamless communication between doctors and patients you can dedicate more resources to patients who demand specialized care.
Health information exchange (HIE) software
Improve the speed, quality, safety, and cost of patient care by making the right information available to the right people at the right time. By developing a SaaS based HIE software reduce duplication of tests and procedures, eliminate medication errors, and improve care coordination among healthcare providers
Patient engagement solutions
From sending appointment, reminders to providing health tips, we aim to enhance patient satisfaction and increase adherence to treatment plans. We develop SaaS based patient engagement solutions that allows you to connect with your patients, at all times, from any location, through individualized communication.
Patient portal software
Get features like appointment scheduling and communication tools to foster better patient-provider relationships by developing our SaaS based healthcare patient portal software. We aim to improve patient engagement while ensuring compliance with healthcare information privacy standards.
Medical billing software
Focus more on patient care and less on administrative tasks. Let's make it easier for you to code services, generate invoices, and collect payments. By developing our customized healthcare SaaS solutions you can simplify the billing process, reduces errors, and ensures timely payments
ePrescribing software
Send prescriptions electronically to pharmacies, eliminate risks associated with handwritten prescriptions and ensure patients receive the right medication promptly. Let us develop our SaaS based healthcare ePrescribing software that fits best for your needs.
Picture archiving and communication systems (PACS)
Store and retrieve medical images easily by developing our reliable and user-friendly healthcare SaaS solution, PACS system. Rest assured that your data is secured and made accessible whenever needed. This centralized system will streamline data management and accessibility, promoting accurate diagnoses.
Laboratory information management systems (LIMS)
With features like sample tracking and workflow automation enhance productivity and accuracy in your lab by developing our SaaS based healthcare LIMS. It will streamline the management of lab samples and related data to enhance productivity, accuracy, and turnaround times by automating lab processes.
Pharmacy management software
Streamline various pharmacy tasks such as dispensing medications, managing inventory, and processing prescriptions by developing our SaaS based healthcare Pharmacy management system. Compliance with regulations will be ensured, assisting you in managing your pharmacy efficiently and effectively.
Clinical decision support systems (CDSS)
Developing our custom CDSS healthcare SAAS solutions enables us to offer patient-specific assessments and recommendations, aiding your clinical decision-making process. This strategy is aimed at enhancing patient outcomes by minimizing medical errors and optimizing treatment efficacy.
Have a healthcare SaaS product vision in mind? Get a free POC to explore our healthcare SaaS solutions
Selected success stories in healthcare SAAS
Meet all quality standards and compliance in your healthcare software
Our Customized Healthcare software development services strictly adhere to medical standards and compliances. Data security is the cornerstone of our software solutions. Our policies ensure data interoperability and secure electronic access. We are compliant with standards for the exchange, integration, sharing, and retrieval of electronic health information. We also follow international standards to transmit, store, retrieve, print, process, and display medical imaging information.
Adherence with Healthcare Standards such as HIPAA, HL7, FHIR, CDA, DICOM, etc.
Compliance with ISO 9001:2015 certifications
Expertise in Medical terms usage (SNOMED)
Want to develope a healthcare SAAS solution? Connect with our experts for a tailored strategy!
See what our clients have to say about our healthcare SaaS solutions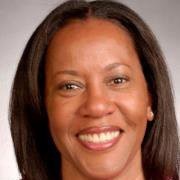 Tillata Gibson
Founder & CEO, Send Mammogram
" Daffodil Software delivered on its promise to complete the backlogged items, providing a more comprehensive solution. They were unique because they provided quality work at an affordable cost — a win-win for both companies."
Empowering healthcare excellence through future-ready SaaS applications
Shape the future of health-tech with our tailored healthcare SaaS services
We offer expert advice and strategic solutions to help you navigate the complexities of the digital healthcare landscape. Our team of experienced consultants understand the nuances of health-tech and use this knowledge to provide insightful, practical, and tailored strategies. We can assist with system integration, data management, operational efficiency, and more.
We provide comprehensive development services, where we create, design, and implement innovative software solutions to meet the unique needs of the healthcare industry. Our expert team uses cutting-edge technology  to build robust, reliable, and user-friendly systems that can manage complex medical data, streamline operational processes, and enhance patient care.
Our team of experts specialize in integrating disparate systems, ensuring smooth data flow, and eliminating information silos. Whether it's integrating patient records, billing systems, or scheduling tools, we ensure all systems communicate effectively, enhancing operational efficiency and data accuracy. With our integration services, you can shape the future of health-tech, leading to improved decision making and patient care.
We offer migration services for healthcare SaaS solutions involve transferring data and applications from your current infrastructure to a cloud-based system. We prioritize data security, conduct an initial assessment, create a detailed migration plan, and offer post-migration support. This service enhances scalability, flexibility, cost-effectiveness, and access to advanced analytics, ensuring compliance with industry standards.
Why Daffodil as your healthcare SaaS solutions partner?
We at Daffodil Software stands for innovation in the healthcare industry, utilizing our extensive knowledge to deliver exceptional healthcare SaaS solutions. We promise our clients a swift transformation of their innovative ideas to reality, while assuring uncompromised quality. Regardless of whether you're a healthcare provider, involved in pharmaceuticals, a manufacturer of medical equipment, or an emerging startup, our custom-made SaaS solutions will effortlessly blend with your unique business demands.
With over two decades of specialized experience in healthcare software development and a global clientele of over 100+ healthcare organizations, our vast knowledge allows us to grasp the complexities of healthcare IT solutions, tackle contemporary challenges effectively, and readily adapt to upcoming technological advancements.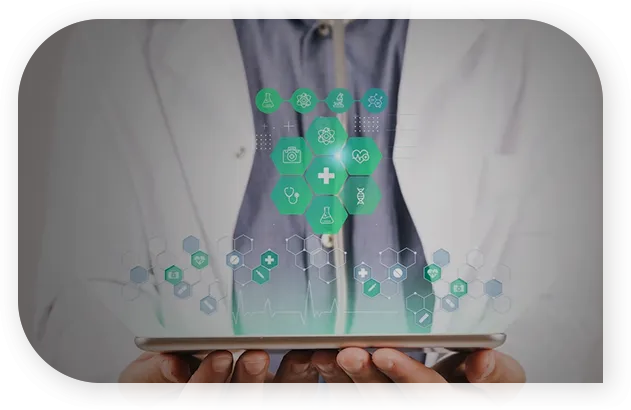 Our unique features of healthcare SaaS that makes us the best heath-tech partner
Why Daffodil Software?
Meaningful Difference, Real Value
Recognized by Leading Analysts:





Global Team and Mature Processes:
Diverse workforce located throughout the world with world-class and integrated processes
1200+ people
20 years of software engineering excellence
Offices in US, UK, UAE, and India




Dedicated Practices & Consulting Approach:
Uncover the right tech for your toughest business problems through our team of seasoned subject matter experts and technologists. Dedicated practice heads for:
AI Solutions
QA & Testing Automation
Mobility
DevOps
Robotic Process Automation
Microsoft Technologies
Open Source Technologies
Salesforce
---
Strong Associations and Partnerships:






We help improve business outcomes with our tailored Healthcare SaaS solutions.
Watch our brand video.
Sign up for a 30 min no-obligation
strategic session with us
Validation of your project idea/ scope of your project
Actionable insights on which technology would suit your requirements
Industry specific best practices that can be applied to your project
Implementation and engagement plan of action
Ballpark estimate and time-frame for development
Frequently asked questions (FAQs)
Choosing the right healthcare Software as a Service (SaaS) development company involves understanding your specific needs and finding a company with healthcare industry experience. The company should have a good portfolio, technological expertise, robust data security, and excellent customer support. It should offer services within your budget and have positive client reviews. Also, they should provide post-deployment services and communicate effectively. Starting with a small project to assess their capabilities is advisable.
1. Electronic Health Records: SaaS helps in managing patient data.
2. Telemedicine: Enables remote patient care.
3. Appointment Scheduling: Streamlines booking process.
4. Medical Billing: Assists in handling finances and insurance claims.
5. Patient Portals: Provides patients access to their health information.
6. Lab Integration: Connects labs and healthcare providers for quick results.
7. e-Prescribing: Allows digital prescription of medication.
8. Clinical Decision Support: Provides healthcare professionals with patient-specific assessments.
9. Health Information Exchange: Facilitates the sharing of patient data among healthcare providers.
10. Remote Patient Monitoring: Enables tracking of patients' health data from a distance.
SaaS can provide several benefits to healthcare providers, including cost savings (since it eliminates the need for on-premise software installations), scalability (as providers can easily add or subtract users), easy updates (since the SaaS provider handles them), and accessibility (since users can access the software from anywhere with an internet connection).
SaaS can help reduce healthcare costs by eliminating the need for on-premise hardware and software, reducing IT staffing needs, and allowing for more predictable budgeting with subscription-based pricing models.