Enabling the healthcare industry to take the next giant leap with our custom telemedicine software development services
Daffodil Software is a leading provider of custom telemedicine software development services across the globe. We have successfully executed more than 100 large-scale healthcare digitization projects for our clients ranging from some of the largest hospitals in the US and Europe to innovative health-tech start-ups and mid-sized companies across the world. Daffodil Software has set up a dedicated CoE for healthcare IT solutions that comprise seasoned healthcare IT professionals and subject matter experts from various verticles of the healthcare industry. We also help our clients to build future-ready healthcare solutions by incorporating technologies such as artificial intelligence, IoT, machine learning, haptic feedback, etc. in their custom healthcare applications.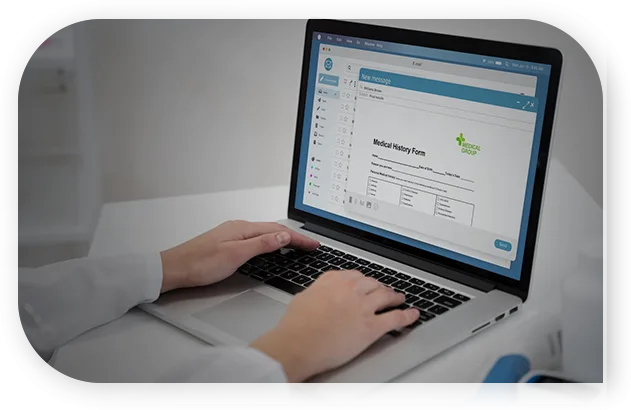 Benefits of Telemedicine software development: convenient, collaborative & secure healthcare for patients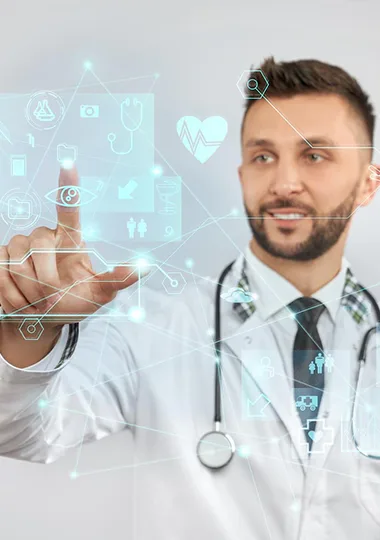 Helping you implement robust features in your telemedicine software
Doctor onboarding
We can create secure onboarding interfaces for you to easily navigate and minimize the time restrictions for all medical assistants, staff, and practitioners. This will also help in integrating new employees into the practice by enlightening them with policies, procedures, and responsibilities for their daily work.
Integrated billing & invoicing
After the engagement of the doctors with their patients remotely, an integrated billing module will help them to charge your customers via a payment portal sent directly without any trouble. This feature by our experts, reduces time consumption, human errors, and operation costs.
Appointment management & feedback monitoring
Viewing & scheduling appointments have made it easy for physicians to manage time consumption and enable business efficiency. With our services, we allow medical practitioners to monitor the health of their patients and respond accordingly to feedback, thereby giving the best treatment to them.
Reporting & analytics
The valuable information of patients can be at your fingertips with our personalized data-driven reporting and analytics services to ensure better treatment of patients. This module helps to measure diagnostics precisely when the patient is unable to come in person to the hospital or clinic.
E-Prescriptions
Our experts create telemedicine software solutions to simplify the prescription process, increase efficiency, maximize patient treatment, prevent drug errors, and monitor prescription written substances.
Leverage seamless integrations
We use integration with popular EMR solutions and PMS such as Quickbooks, ADP, Kronos, and many others. This integration directly impacts the interaction with patients and other healthcare stakeholders, thereby assuring effortless health record exchange and streamlined workflow.
Store & forward telemedicine services
This allows secure and encrypted medical data sharing with other professionals to eliminate waiting hours, and traveling costs to achieve a quick diagnosis. Our telemedicine solutions allow patients to get treatment for their non-emergency health conditions with comfort and utmost privacy from their homes. Through a video chat itself, a patient's illness or acute conditions can be diagnosed and further remotely monitored, maintaining privacy between the patient and the medical expert.
Live video conferencing
Simplify your virtual doctor and patient appointments via video calls without the urgency of downloading any software. Further, sharing screens & documents like medical charts, prescriptions, or treatment instructions, can also be accessed for better health outcomes. We allow recording of the videos as patient files for easy follow-up and reviewing of the health.
Why Daffodil Software?
Meaningful Difference, Real Value
Recognized by Leading Analysts:





Global Team and Mature Processes:
Diverse workforce located throughout the world with world-class and integrated processes
1200+ people
20 years of software engineering excellence
Offices in US, UK, UAE, and India




Dedicated Practices & Consulting Approach:
Uncover the right tech for your toughest business problems through our team of seasoned subject matter experts and technologists. Dedicated practice heads for:
AI Solutions
QA & Testing Automation
Mobility
DevOps
Robotic Process Automation
Microsoft Technologies
Open Source Technologies
Salesforce
---
Strong Associations and Partnerships:






Customized telemedicine solutions for the entire health ecosystem
With our telemedicine software development services, you may automate tedious tasks, accelerate diagnosis, preserve data security, improve decision-making efficiency, and ensure exceptional customer satisfaction.
Our telemedicine software solutions may provide significant value at each stage of pharmaceutical assistance. Throughout medical research, clinical trials, visits, video conferencing, doctor onboarding, analytics & reviews, and medical practices, we will be your steadfast partner.
Specialty-specific telemedicine platforms
We develop telemedicine software solutions for professionals in medical specialties such as cardiology, numerology, mental health, and dermatology. Utilize our treatment planning tools, diagnostic tools, features, and functionality for these specialty-specific health conditions and innovative medical growth.
Medical device manufacturers
Our technology helps you to prioritize your end-users health and well-being. By employing our intelligent software solutions, you may be a pioneer in developing innovative telemedicine capabilities and have a market-fit product for your desired revenue.
Telemedicine or healthcare startups
We help you meet your medical business creativity to outstanding execution for letting incredible things happen. Whether you are a medical startup that is looking to spread its wings or an uncertain planned pharma setting, our subject matter experts can help you build your vision in the medicine market. Your out-of-the-box ideas can shape into reality with our full-cycle telemedicine software development services.
Get started with custom telemedicine software development
Future-ready telemedicine expertise
Standards and compliance
Our Customized Telemedicine software development services strictly adhere to medical standards and compliances. Data security is the cornerstone of our software solutions. Our policies ensure data interoperability and secure electronic access. We are compliant to standards for the exchange, integration, sharing, and retrieval of electronic health information. We also follow International standard to transmit, store, retrieve, print, process, and display medical imaging information.
Compliance to Health Information privacy standards (GDPR, HIPAA, CMMIDEV/3)
Adherence with Healthcare Standards (e.g., HL7, FHIR, CDA, DICOM)
Compliance with ISO 9001 : 2015 Certifications
Expertise in Medical terms usage (SNOMED)
We create agile and adaptable telemedicine software solutions to help you improve patient outcomes and deliver better healthcare at speed and scale.
Watch our brand video
Your first telemedicine IT consulting session is on us!
Sign up for a 30 min no-obligation
strategic session with us
Validation of your project idea/ scope of your project
Actionable insights on which technology would suit your requirements
Industry specific best practices that can be applied to your project
Implementation and engagement plan of action
Ballpark estimate and time-frame for development
Frequently asked questions (FAQs)
Telemedicine software technology permits medical experts or practitioners to diagnose patients remotely and treat them via secure & encrypted telecommunication methods such as video chats, phone calls, and emails, etc.
Telemedicine services include 3 major components that are video conferencing for real-time consultations (between the patient & medical helpers), language translation services, and provider-to-provider conversations.
Telemedicine refers to remote clinical services, while telehealth is remote non-clinical services. The non-clinical examples are administrative meetings, provider training, and continuing medical education.
Keep your requirements in mind while selecting the best telemedicine software development service, and map them against the services provided by the organization. In the initial consulting session with the firm leaders explicitly spell out your requirements and quiz them about their development process, former clientele, and expertise in working on comparable projects. Establish a solid communication line with the allocated project manager to verify that your vision is being transformed into reality as per your expectations.
Daffodil Software uses a variable cost-estimating technique that adapts to project needs and resource use. We first create a project scope and its stages to determine how much time each step of the development process would take and how many developers will be needed to accomplish the project on time. In addition, given the intricacy of the deliverables, a quotation is advised.