Insurance Software
Development
Helping insurance service providers to streamline processes and reduce TAT through custom business analytics applications, insurance data exchange solutions and tailored insurance management solutions
Custom Insurance Software Development Services
Insurance Quoting Solution
Custom insurance quoting module with custom premiums calculation, algorithms for qualitative risk assessment,as well as analytics to leverage statistical data and make smart decisions.
Claims Management Solution
Custom claims management systems for streamlined claims data collection, authentication, and submission to carriers, integrated with email and SMS notifications
Insurance Document Management Systems
Develop cloud based custom documents capture solution capable collecting, segmenting and sorting policy information based on custom rules and criteria.
Risk Management Solutions
Develop custom risk management solution to track Key Risk Indicators (KRI) in real time and alert users of relevant preventative actions via email, SMS or puch notifications.
Gain a competitive edge for your business through: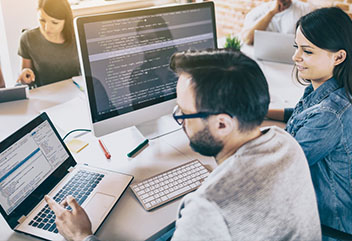 Product Engineering
Realize your vision with a tailored software, delivered on-time and within your budget
Build my product