Stay ahead in the Fintech race with unmatched fintech software development services:
The fintech ecosystem is constantly expanding and is increasingly deconstructing the walls of legacy financial institutions, creating opportunities for digital pioneers in banking, finance, trading, and various other ancillary fields. The overwhelming influx of non-banking entities into the financial sphere has been putting pressure on regulated financial institutions to embrace new technologies.
Recent study shows that the global fintech market is worth approximately $180 billion; the number has almost doubled since 2017. These numbers are only going to expand as there are over 30,000 fintech startups vying for the pole position.
Daffodil Software's fintech software development services in UAE offer budding fintech entities as well as traditional institutions the experience and dedication required to gain a competitive edge. With multidisciplinary expertise across technologies like peer-to-peer payments, billing automation, trading algorithms, predictive analytics, and so on; Daffodil's team can equip you with end-to-end capabilities to handle any financial challenge with ease.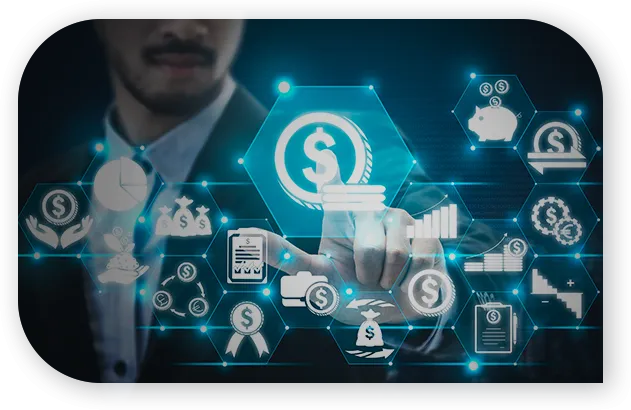 Drive value with future-ready and innovative fintech software solutions
Develop fintech platforms tailored to your business needs, to keep you ahead of the financial curve
Custom fintech application development
Our fintech software development company in UAE specializes in delivering bespoke fintech app development solutions highly specific to your positioning and business goals. With expertise in cutting-edge technologies, we provide customized solutions to meet specific requirements, ensuring secure transactions, seamless user experiences, and robust functionality for your specific financial vertical.
Insurtech platforms
We develop comprehensive Insurtech enablement platforms in UAE, integrating policy management, claims processing, underwriting automation, and data analytics that can enable you to lead the technology wave revolutionizing the insurance sector. Our custom Insurtech solutions drive efficiency and transparency in the insurance claims processing journey.
Wealth management platforms
Elevate wealth management with our expertise that encompasses all aspects of the portfolio management workflow. Drive the empowerment of financial advisors and investors alike with comprehensive wealth management solutions with enablements such as investment tracking, risk assessment, and intelligent performance analytics.
Custom Online Trading Software
Our fintech software development services focus on creating high-performance trading platforms. We design solutions that offer real-time market data, advanced analytics, and seamless execution of trades, enhancing user experience and decision-making capabilities.
Cryptocurrency platform development
Leverage our cryptocurrency platform development services & ensure seamless transactions, robust security measures, and a user-friendly interface. Foster trust and ease-of-use for your customers in the dynamic world of digital currency with us.
Digital lending technology platforms (LendTech)
We expertise in developing a wide variety of lending technology solutions. We build comprehensive platforms that streamline the lending process, improve risk assessment, and enhance customer experience, ultimately driving profitability for lenders.
Secure digital wallets
Equip your fintech apps with highly secure digital wallets that leverage cutting-edge encryption algorithms, multi-factor authentication, and robust API integrations. Tap into robust authentication mechanisms, including digital signatures, biometrics, and secure key storage that work in tandem to safeguard highly critical and sensitive financial data.
P2P payment solutions
Leverage our fintech software development services in UAE to make your payment modules frictionless and efficient with peer-to-peer payment solutions. Modernize your existing payments architecture with real-time data synchronization, and intelligent payment routing algorithms that help manage enterprise-wide transactions with ease.
Accounting information systems
Enhance the efficiency of your fintech platforms by customizing accounting information systems in a way that helps realize their full potential. Our proven track record in developing tailored solutions for streamlined bookkeeping, real-time financial reporting, and automated reconciliations in UAE; is the right bet for your fintech platform's accounting information management.
Fintech analytics
Our fintech software development services in UAE incorporate advanced analytics capabilities, leveraging data visualization, machine learning, and predictive modeling to provide actionable insights, empowering data-driven decision-making within your fintech software solutions. Unleash the potential of fintech analytics for an in-depth understanding of your fintech business.
Payment gateways
Explore specialized development of secure, scalable, and feature-rich payment gateways, leveraging advanced technologies and seamless API integrations to enable swift and secure transactions. Trust our expertise for delivering robust enhancements positioned for multiple payment methods, international governance criteria, and various currencies.
Our fintech software development services success stories
Develop best-in-class digital finance platform solutions in UAE with:
Why Daffodil Software?
Meaningful Difference, Real Value
Recognized by Leading Analysts:





Global Team and Mature Processes:
Diverse workforce located throughout the world with world-class and integrated processes
1200+ people
20 years of software engineering excellence
Offices in US, UK, UAE, and India




Dedicated Practices & Consulting Approach:
Uncover the right tech for your toughest business problems through our team of seasoned subject matter experts and technologists. Dedicated practice heads for:
AI Solutions
QA & Testing Automation
Mobility
DevOps
Robotic Process Automation
Microsoft Technologies
Open Source Technologies
Salesforce
---
Strong Associations and Partnerships:






Customized features in fintech development:
We can enable custom reward systems and loyalty programs for every type of fintech app, in addition to gamification strategies to engage customers holistically through our fintech software development services in UAE. Through personalized reward structures that align with the specific objectives of each app, we drive desired behaviors for improved customer satisfaction and retention.
Our fintech software development team in UAE excels in creating custom underlying architectures for various types of fintech apps. With deep expertise in designing robust, highly-available, scalable, secure, and efficient architectures, we tailor solutions to meet specific requirements, ensuring seamless integration, and future-proofing for diverse fintech applications.
Innovative biometric solutions
Leveraging best-in-class biometric technologies such as facial recognition, fingerprint scanning, digital signatures, and voice authentication, we develop robust and seamless fintech software solutions in UAE that ensure secure user authentication, fraud prevention, and seamless user experiences.
By leveraging Decentralized Finance (DeFi) mechanisms, you can set up multiple points of failure as a failsafe against widely distributed attacks on your application network. We enforce fixed multi-party financial obligations with no need for partnering with additional intermediaries or external support entities through our DeFi enablements.
Innovate & improve financial services through transformative technology adoption
We create agile and adaptable fintech software solutions in UAE to keep you ahead in the game, always.
Watch our brand video.
Your first fintech software consulting session is on us!
Sign up for a 30 min no-obligation
strategic session with us
Validation of your project idea/ scope of your project
Actionable insights on which technology would suit your requirements
Industry specific best practices that can be applied to your project
Implementation and engagement plan of action
Ballpark estimate and time-frame for development
Frequently asked questions (FAQs)
The process of fintech software development can be complex and time-consuming, but it is essential for creating high-quality software that meets the needs of users. Here are some additional key steps in the fintech software development services in UAE process:
◉ Data analysis: The developers need to analyze data to understand the needs of users and to identify opportunities for innovation.
◉ Security: The software must be secure to protect user data.
◉ Compliance: The software must comply with all applicable regulations.
◉ User experience (UX): The software must have a good UX to ensure that users are satisfied with it.
◉ Continuous improvement: The software must be continuously improved to meet the changing needs of users.
Banks and traditional financial institutions in UAE are leveraging fintech in a number of ways, including:
◉ Partnering with fintech startups: Banks are partnering with fintech startups to develop new products and services, or to improve their existing offerings. This allows banks to tap into the innovation and agility of fintech startups, while also mitigating some of the risks associated with fintech.
◉ Acquiring fintech startups: Banks are also acquiring fintech startups to gain access to their technology and talent. This is a more expensive option than partnering with fintech startups, but it can give banks a more rapid way to innovate.
◉ Developing their own fintech solutions: Banks are also developing their own fintech solutions, either in-house or through partnerships with technology providers. This allows banks to have more control over their technology and to ensure that it meets their specific needs.
Banks and fintechs are both involved in the financial services industry, but they have different business models and approaches.
◉ Banks are traditional financial institutions that are regulated by governments. They offer a wide range of financial products and services, such as checking accounts, savings accounts, loans, and investments.
◉ FinTechs are technology companies that use technology to provide financial services. They are often not regulated by governments and typically focus on a specific niche in the financial services industry.
Some of the cutting-edge technologies that power fintech are the following:
◉ Artificial intelligence (AI): AI is used in a variety of ways in fintech, including fraud detection, customer service, and risk management. For example, AI can be used to analyze large amounts of data to identify patterns that indicate fraudulent activity.
◉ Blockchain: Blockchain is a distributed ledger technology that is used to record transactions in a secure and transparent way. Blockchain is being used in fintech to create new financial products and services, such as cryptocurrencies and smart contracts.
◉ Cloud computing: Cloud computing is used to store and process data in a scalable and cost-effective way. Cloud computing is being used in fintech to power mobile apps, online banking, and other financial services.
◉ Big data: Big data is the collection and analysis of large amounts of data. Big data is being used in fintech to improve customer insights, risk management, and fraud detection.
◉ RegTech: RegTech is the use of technology to help financial institutions comply with regulations. RegTech is being used to automate compliance checks, identify risks, and manage regulatory change.