Bridging the gap between data and decision-making
The vast, far-reaching universe of data that businesses are dealing with today, is nothing short of overwhelming. Plus, the siloing effect in organizations adds-on to this complexity. Power BI solutions can help to bridge this wide gap between data and decision making and enable businesses to make informed decisions, which in-turn uplifts their growth trajectory.
Get a 360 degree view of your business data with the help of customizable, interactive and visually appealing dashboards using our Power BI Development Services. Our certified Power BI developers can assist you in maximizing the potential of business intelligence for your organization – enabling you to easily visualize advanced analytics, efficiently utilize your data & drive meaningful transformations.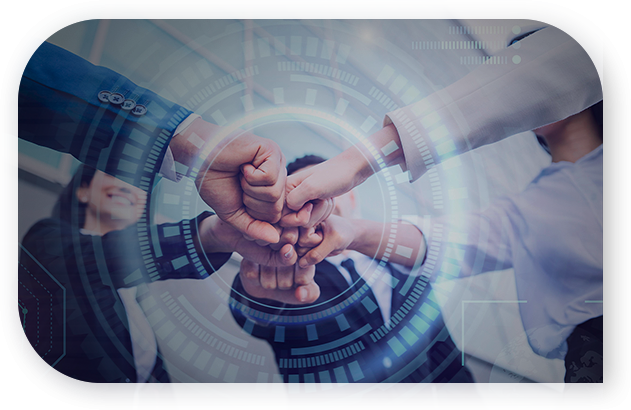 Enabling you to leverage Power BI to its maximum potential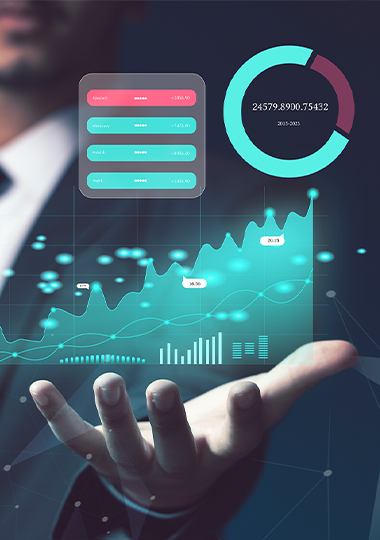 Our Power BI development services include:
Power BI consulting
Our Power BI consultants analyze your business requirements, assist with strategizing, and help to identify BI solutions tailored to your specific business needs. With power BI consulting services, you can also identify gaps & opportunities in your business data using the BI dashboard.
Power BI integration
Power BI capabilities allow you to integrate it with multiple data resources like text files, third party APIs, Oracle, CSV & much more, making it easy to use with existing systems and great for visualizing all the data in one place. Have our BI experts help integrate the best-suited tools with your Power BI platform.
Power BI customization
Change the look & feel of your reports to match your organization's branding or make your reports look more insightful using charts, graphs & other visualization tools with our Power BI customization services. Our power BI experts can help you upload/import any custom visual to Power BI dashboards.
Power BI migration
Migrate to power BI seamlessly with minimal downtime and least performance disruptions using our Power BI migration services. Transition from legacy BI platform to cloud-based business intelligence like Power BI; to improve accessibility, increase collaboration & reduce IT infrastructure & maintenance costs.
Power BI data modeling & analytics
Optimize & analyze crucial data with data modeling & drill-out the most important analytics using our Power BI services. Power BI's data modeling and analytics features allow users to easily transform and shape their data, uncover hidden insights, and make more informed decisions.
Power BI testing
Our specialized Power BI experts help to validate the BI solutions before they are deployed to the production environment. They test the functionality & performance of Power BI reports, dashboards, and visualizations to ensure that they meet the requirements and perform as expected.
Power BI support & maintenance
Our BI developers & administrators can help to ensure optimal performance & enable continuous evolution of your power BI solution. Leverage our Power BI support & maintenance services to monitor data loads, resolve existing issues and fix security related vulnerabilities.
Power BI real-time streaming
Use Power BI real-time streaming feature with a variety of data sources, such as IoT devices, social media feeds, and other systems. Our BI experts can help you to leverage this service & create visualizations that update automatically as new data arrives.
Power BI on Azure
Bring together the powerful data visualization and analysis capabilities of Power BI, as well as the scalability, security, and flexibility of Azure with Power BI on Azure service. Access multiple Azure resources to enrich your data and create more advanced analytics to improve business processes.
Power BI with .Net Core or .Net
By using Power BI with .NET Core or .NET, our BI developers can create custom applications for your business that can interact with Power BI resources and automate tasks such as creating and updating reports, managing data sources, etc; enabling you to accelerate your decision making process.
Power BI REST API
By using Power BI with .NET Core or .NET, our BI developers can create custom applications for your business that can interact with Power BI resources and automate tasks such as creating and updating reports, managing data sources, etc; enabling you to accelerate your decision making process.
Our Power BI development services success stories
Why leverage Power BI capabilities?
Why Daffodil Software?
Meaningful Difference, Real Value
Recognized by Leading Analysts:





Global Team and Mature Processes:
Diverse workforce located throughout the world with world-class and integrated processes
1200+ people
20 years of software engineering excellence
Offices in US, UK, UAE, and India




Dedicated Practices & Consulting Approach:
Uncover the right tech for your toughest business problems through our team of seasoned subject matter experts and technologists. Dedicated practice heads for:
AI Solutions
QA & Testing Automation
Mobility
DevOps
Robotic Process Automation
Microsoft Technologies
Open Source Technologies
Salesforce
---
Strong Associations and Partnerships:






Why choose Daffodil as your partner?
Flexible engagement models
Whether your business requires a fully managed solution or just additional resources to augment your team, our flexible engagement models offer tailored support that fits your needs.
Integrated best practices
Our Power BI experts comply with international standard practices to ensure optimal performance and effectiveness of your Power BI solution.
Hire seasoned Power BI professionals with extensive experience in designing and setting up data visualization solutions using Power BI for various industries and domains.
We tailor our services to meet the unique needs and goals of your business, ensuring that BI implementation is both efficient and effective.

End to end power BI development services
Our full range of Power BI development services can help organizations of all sizes to gain insights from their data and make data-driven decisions. Our team of experienced BI developers can work with you to understand your business needs and create a customizable Power BI solution to drive your business forward.
Simplify data, extract meaningful insights and make decisions rooted in facts with our business intelligence services.
Watch our brand video.
Take your Free Power BI consulting session today!
Sign up for a 30 min no-obligation
strategic session with us
Validation of your project idea/ scope of your project
Actionable insights on which technology would suit your requirements
Industry specific best practices that can be applied to your project
Implementation and engagement plan of action
Ballpark estimate and time-frame for development
Frequently asked questions (FAQs)
Power BI is an immersive data visualization & business intelligence tool that analyzes data from various sources, creates interactive dashboards and reports, and helps to collaborate & share insights.
Power BI can be beneficial for a wide range of industries and is a great tool for businesses looking to improve their data analysis and decision-making capabilities.
Yes, Power BI can generate real-time reports using real-time data streaming and data refresh capabilities.
Power BI Developer specializes in developing and deploying Power BI solutions using interactive and user-friendly dashboards and reports. Power BI developers come with vast experience in data visualization, data analysis, and data management.
Power BI can be beneficial for a wide range of industries, such as finance, healthcare, retail, and manufacturing, to name a few.